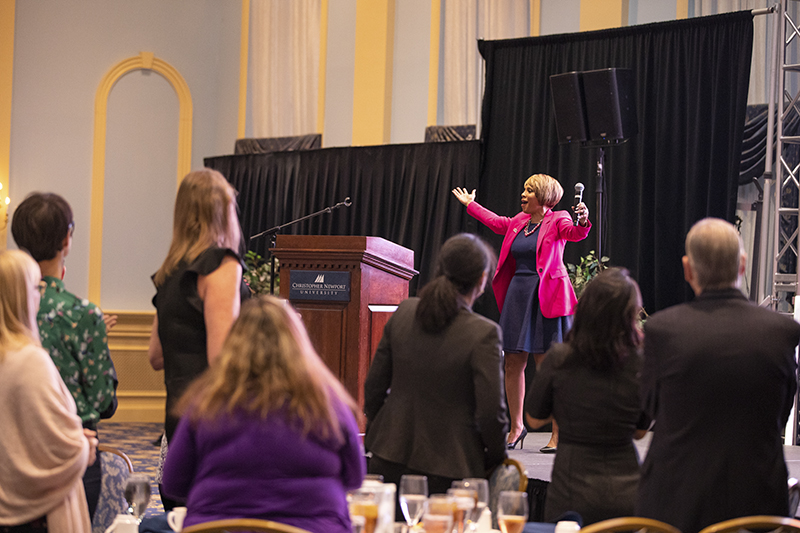 Read time:
---
Christopher Newport's annual Conference on Women and Gender will be held in a virtual format this year, but that's not dimming the star power of speakers that include noted authors and high-profile business and government executives.
With a theme of "Gender, Politics, and Everyday Life: Power, Resistance and Representation," the conference will be held March 18-20. Registration for the talks, panel discussions and artistic performances is open to all. Tickets are free for Christopher Newport faculty, staff and students with no registration necessary, and they will receive emailed links to all events.
"This interdisciplinary conference brings together participants from all academic fields to engage in wide-ranging conversations on women and gender studies," said conference organizer Jessica Apolloni, assistant professor of English. "Participants will gain new insights into topics such as combating gender inequalities, activism and empowerment, and global perspectives of women in politics."
The conference is presented by the College of Arts and Humanities with sponsorship support from Bank of America and Norfolk State University.
Featured speakers include:
Dr. Dawn Teele (University of Pennsylvania), author of Forging the Franchise: The Political Origins of the Women's Vote. Teele's research focuses on the causes and consequences of voting rights reform; candidate socialization, recruitment, and election; incumbency and gender; democratization and economic development; methodology and field experiments.
Toni Townes-Whitley is president of U.S. Regulated Industries at Microsoft, where she leads the U.S. sales strategy for driving digital transformation across customers and partners within the public sector and commercial regulated industries. She has developed expertise and speaks publicly about what she describes as civic technology, applying tech innovation for social impact.
Sophia Nelson, an adjunct faculty member at Christopher Newport, frequent legal and political commentator on CNN and motivational speaker. Nelson is the author of two books, including E Pluribus One: Reclaiming Our Founders' Vision for a United America. She is a former White House correspondent and an investigative counsel for a congressional committee.
Dr. Colita Fairfax (Norfolk State University) specializes in cultural influences to enhance community and marriage interventions/development and social policy. She has authored historiographies about Hampton, Virginia and the Alpha Kappa Alpha sorority.
Tiffany Boyle, commissioner of revenue for the city of Newport News. Boyle has served in an array of civic and government leadership positions and currently oversees a staff of 40 and a $2.5 million budget.
In addition to the talks and panel discussions, the conference will feature readings and performances. CNU's Dr. Joanna Eleftheriou, assistant professor of English, will read from and discuss her new book This Way Back, an essay collection that dramatizes her coming of age as a queer feminist woman. Brittany Harris will present a one-woman theatrical production, "Being B.A.D.", that embodies creative resistance against oppressive gender stereotypes and domestic violence. Playwright Liz Linkewitz will present MISTRESSES, a monologue play with an all-female cast that features women whose personal narratives rewrite history.
All conference presentations will be offered in a Zoom webinar format. Visit the Conference on Women and Gender website for more information.
---