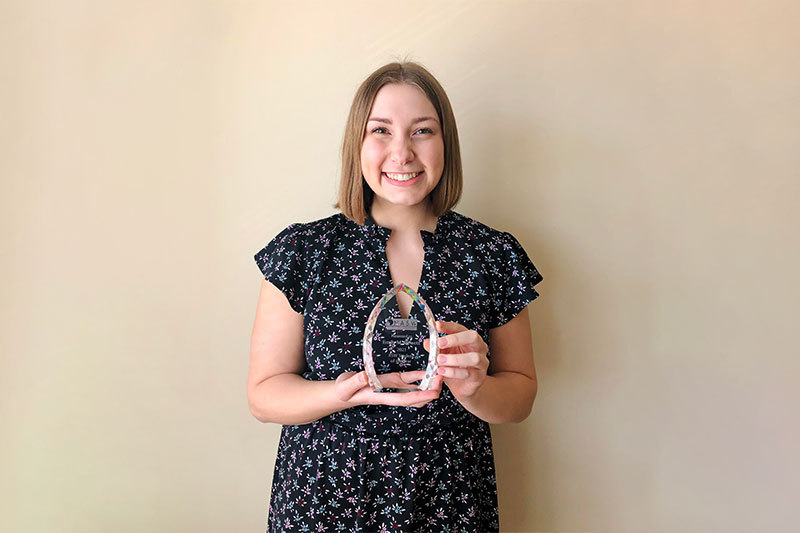 Read time:
---
Emily Hewett '21 has been named the Bachelor of Social Work Student of the Year by the Virginia chapter of the National Association of Social Workers.
The distinction goes to a student who:
Demonstrated outstanding academic work
Demonstrated outstanding accomplishments and work in the social work field during an internship or field placement
Demonstrated outstanding leadership qualities
"Emily has done all of that and more," said social work program director Dr. Diane Griffiths. "Her dedication to service is especially inspiring and it is evident in the number of hours and the level of care she has devoted to her internship."
Hewett is credited with more than 200 hours of in-person work supporting program development and facilitating virtual enrichment groups for elementary and middle school youth at Alternatives Inc., an organization serving young children on the Virginia Peninsula.
Hewett will be honored at the association's annual conference in late March. Then, after graduation, she will head to Virginia Commonwealth University where she will study for a master's degree in social work with a goal of attaining a school social work certificate.
"Social work has been a passion of mine since middle school," Hewett said in a video acceptance speech she prepared for the awards ceremony. "I want to continually put myself in a position where I'm helping others help themselves and pushing for equality and equity wherever I go. I am ready to enter this field. I have literally been waiting since the seventh grade, so I am pumped."
---