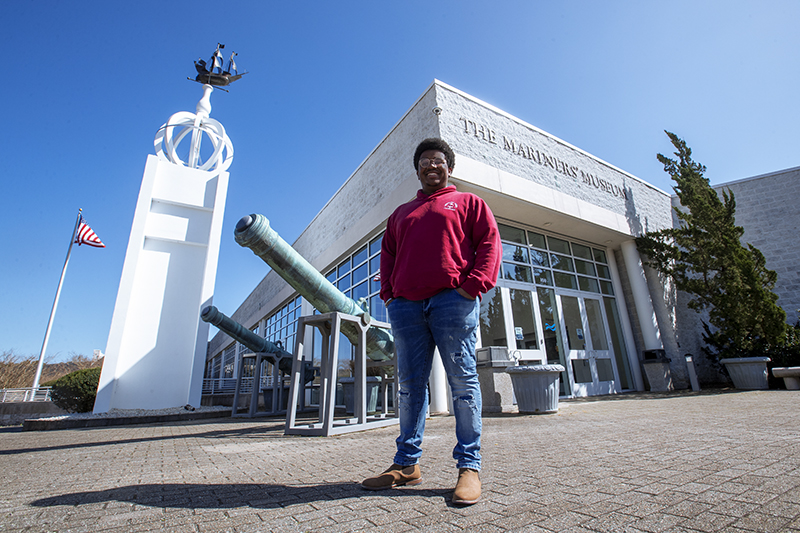 Read time:
---
Senior Malik Dickens is helping bring the history of local shipbuilders and crabbers to life through an internship with the Mariners' Museum and Park.
Dickens, a history major, museum studies minor and proud native of Hampton, is examining the maritime trades that African Americans practiced in Hampton Roads from emancipation through today. Jobs connected to the water were and are still plentiful and varied, from fishing to the U.S. Navy.
"I want to focus on careers, and the building and formation of various communities within the area," Dickens said. "How did those careers sustain those communities? I have personal passions in both history and also African American experiences. I'm really happy I can connect those two things together."
The internship is part of Dr. Sheri Shuck-Hall's history practicum course, in which students apply their knowledge in an internship setting. Over 120 hours throughout the semester, participants gain practical experience outside the classroom.
Dickens' work is part of a broader effort to overhaul the Mariners' Museum's website, said Wisteria Perry, manager of interpretation and community outreach for the museum. As Dickens' supervisor, Perry is using his input as the museum develops an entirely new virtual exhibition that will focus on African and African American perspectives.
"Even though this virtual exhibition will not be complete when Malik completes his internship, I can absolutely visualize new and interesting programs being created from his project focusing on the local area," said Perry.
Dickens' tasks include updating the current exhibit's bibliography, reading articles about and interviews with tradespeople, and researching features that other museum websites use to display interactive exhibits. He is also assisting Perry with researching individuals who will be featured in future blogs and helping to redesign a program on how to prepare for hurricanes, which will be presented to after-school students beginning in mid-April.
Dickens views his work as both a way to grow his skills and knowledge and to contribute to the community that helped shape him.
"The Hampton Roads area is very instilled in me," he said. "From being active in the Black Student Union, my community service work, my Bonner Service Scholars work, this has always been a common theme for me – how can I give back to the community that has been part of my formative years? And how can I use this for good?"
---