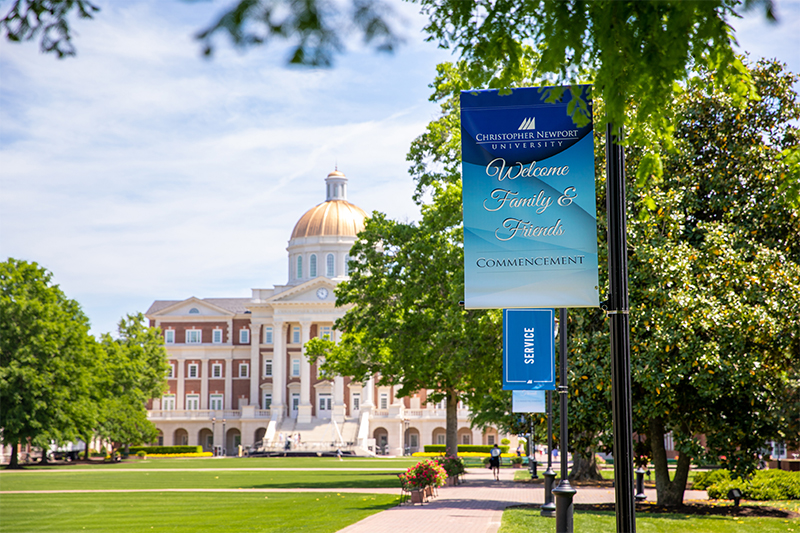 Read time:
---
Two celebrations on the Great Lawn unfolding on back-to-back Saturdays will celebrate the Class of 2020 and the Class of 2021.
On May 8 and May 15, graduates in each class and their families will enjoy the traditions and pomp that make Christopher Newport commencements so special even as the pandemic and health protocols require adaptations.
What has been called the Commencement Experience will feature traditions, including:
Participating in the Latin Honors Convocation for the Conferring of Honors and Awards
Sharing the light at the solemn Alumni Illumination ceremony
Tossing a penny in the fountain at Saunders Plaza
Ringing the bell in the Hoinkes Plaza Bell Tower
Both Commencement Experience events will be live-streamed at cnu.edu/live
Graduates will be hooded in the traditional caps and gowns and walk the stage in front of Christopher Newport Hall to be honored by academic leaders. Their families will be invited to stand close by for photos and to share in one of life's most memorable moments.
Unfortunately, for the first time in his tenure of 25 years, President Paul Trible will not be in attendance as he is on a sabbatical to help care for his wife Rosemary as she recovers from a muscle disease. In letters to the graduates, the president expressed his regrets: "Rosemary and I wish we could be there in person to congratulate you on all of your accomplishments, to meet your families and friends, and to beam with joy as you cross the stage. Rosemary will especially miss being able to continue the tradition of giving each and every one of you a hug as she has done for the last 25 years. We are disappointed that we cannot be present, but please know, you are in our hearts today."
Here are profiles of each graduating class by the numbers:
Class of 2020
Class of 2021
1,237 graduates including 97 graduate students with 48 majors
First graduates in cybersecurity and the master of financial analysis programs
33% are graduating with STEM degrees
21 states, Canada, Mexico and Spain are represented
---