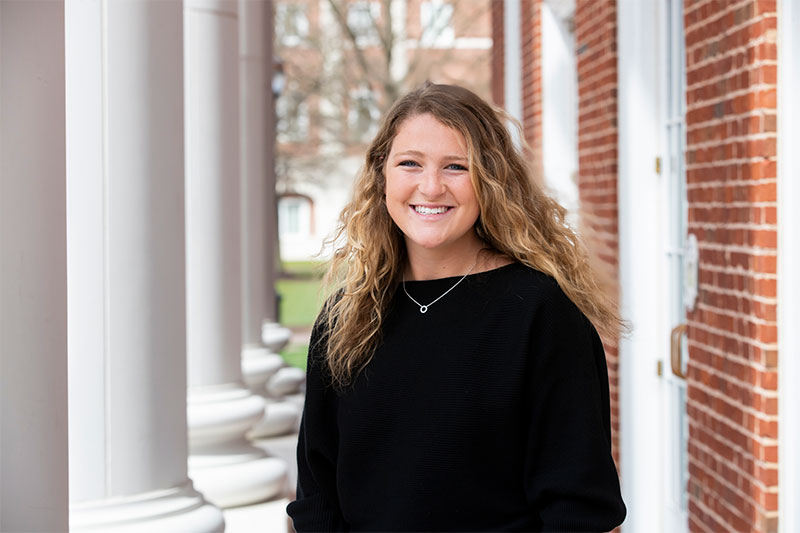 Read time:
---
Students Kara Ferner '21 and Kayla Buchanan '22 have received awards from the Alpha Chi national honor society that, together, give Christopher Newport University a unique distinction.
"That two members of the CNU chapter of Alpha Chi should win scholarships is numerically improbable," said Honors Program director Dr. Jay Paul. "Alpha Chi awards 26 scholarships per year and has hundreds of chapters. That we have won two of 26, have done it before and now have amassed 16 scholarships over the years is just remarkable."
Ferner received the $4,000 Robert W. Sledge Fellowship and Buchanan was awarded the $2,000 Alfred H. Nolle Scholarship.
"Alpha Chi accepts only students who are the top 10% of their class, and these two students successfully competed in a process open to Alpha Chi scholars from all 300 chapters nationally," said Vice Provost for Undergraduate Education Robert Colvin. "They truly emerged as the best of the best and we could not be more proud of these two wonderful Captains!"
Ferner is a student-athlete with impressive credentials. She previously was named a Goldwater Scholar, a prestigious distinction reserved for the nation's top undergraduate math, science and engineering students. A double-major in applied physics and computational and applied mathematics, Ferner is a member of the Honors Program and the President's Leadership Program. She also conducts research in nuclear physics at Jefferson Lab, maintains a perfect 4.0 GPA and plays on the women's tennis team.
After graduation, Ferner will pursue a PhD in mechanical engineering at Carnegie Mellon University and assist in sustainable energy research conducted by Dr. Shawn Litster. "I'm very sad to be leaving Christopher Newport but really excited about this new journey," Ferner said.
Buchanan is a pre-med neuroscience major with minors in biology, psychology and leadership studies. She plans to go to medical school and become a physician. "I am incredibly grateful and honored to receive this scholarship, especially after such an unusual and challenging academic year," Buchanan said, crediting Paul's support during the Alpha Chi application process.
Alpha Chi is a 10,000-member national college honor society and has been awarding scholarships since 1922.
---