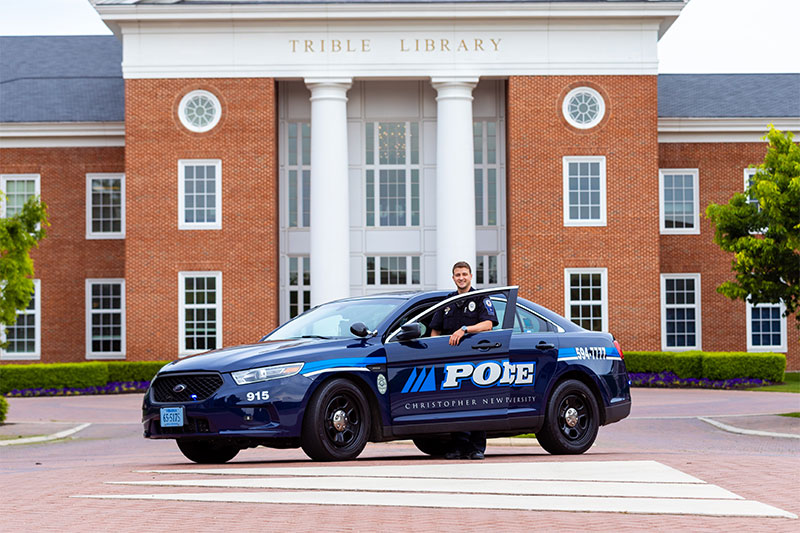 Read time:
---
Officer Caden Butler has served with University Police for more than two years. He is a summa cum laude graduate of Old Dominion University and a veteran of the U.S. Navy.
What motivated you to become a police officer?
Since I was young, I have always wanted to help people in need. That was the biggest driving factor for me choosing law enforcement as a career. The other motivation for becoming a police officer stemmed from a sense of pride in service that I had felt while serving in the U.S. Navy.
How long have you been a police officer?
I was hired on with University Police in November of 2018. I completed all the required qualifications and certifications in September of 2019. About two years is the short answer, but it shows just how much training is necessary to get someone up to the standards that are required for this line of work.
How does policing our campus feel?
There is a great relationship between our campus community and CNUPD. That coupled with the university's goal of producing community-oriented leaders makes working at this department fantastic.
What would you tell someone interested in becoming a police officer?
I would tell them that communication is key and to be adaptive. Effective communication is the primary tool police officers use and will allow them to address nearly any situation that requires a police presence. At the same time you have to be prepared to adapt. Laws and policy change, technology advances, and any incident that you are called to can shift in an instant.
What is the hardest part of your job?
The hardest part of the job for me, is when I am unable to fix the root problem. For example, I can't fix homelessness, I can't cure a mental health ailment, and I can't restore security and peace of mind to someone who's been the victim of a crime. I can provide resources to help with these issues, but that's only one step toward repairing the overall dilemma.
What is your favorite part of the job?
In short, helping people. It could be something as simple as assisting someone who is having car trouble and needs roadside assistance, or helping a victim of a crime get some closure and solace.
What would you say makes being a police officer special?
It's a position that is unlike any other. The police are called upon to be the problem solvers, arbitrators, counselors and in many instances, to be the encyclopedia of the public. I believe there is something special about being the profession that people look toward for answers.
Do you do anything special to stay motivated on or off the job?
Staying in good physical condition helps motivate me, so I try to run and work out whenever possible in my free time.
How much free time does your job allow/what does your daily shift schedule look like?
There is a day, evening and midnight shift rotation. We work 10-hour shifts for four days a week with three days off. So there is typically plenty of time off. However, there are occasions when you would have to work outside of your schedule such as court dates, events requiring police presence or overtime postings.
Can you walk me through the average day of being a police officer?
At the beginning of every shift there is a briefing and passdown of any pertinent information or required training. Following the briefing, a patrol vehicle would be outfitted. Then you would begin your patrol and start receiving calls for service. The top priority of the Patrol Division is ensuring the public's safety and preventing any damage to property. Depending on the day, an officer could be conducting a variety of functions from criminal investigations, follow-ups to previous reports, traffic code enforcement or community outreach.
If you could go back to when you started training for a police officer, knowing what you do now, what would you change/would you still do it?
I would still do it. If I could impart the knowledge and experience that I have now, on myself back then, I believe it would be incredibly beneficial. As far as changes, I would have to remind myself to stay away from the donuts.
---