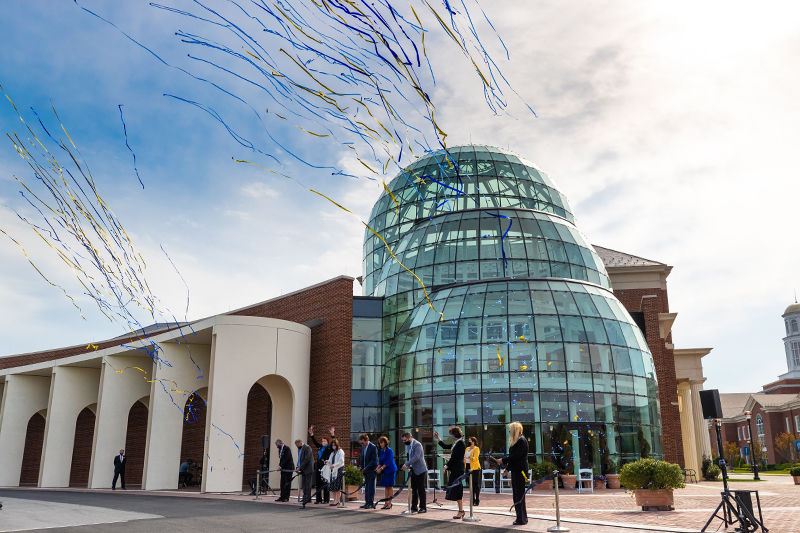 Read time:
---
With streamers flying and the sun glistening on glass domes, the visionaries who brought the Mary M. Torggler Fine Arts Center to life cut the ribbon and opened the doors to a masterpiece.
The dedication ceremony and "soft opening" for Christopher Newport students, faculty and staff left no doubt: the Torggler and the adjacent Ferguson Center for the Arts establishes the university as an unparalleled nexus for the arts in Virginia.
This $60 million-dollar state-funded 83,000-square-foot facility opens to the public in September and features a stunning rotunda of cascading glass domes, symbolizing Christopher Newport's bold vision for the role art plays in the life of our university, our community and commonwealth.
The Torggler houses the Department of Fine Arts and Art History and boasts a magnificent main gallery for major exhibitions; a 150-seat auditorium; a community gallery; and studio classrooms for academic as well as public art classes, workshops, and camps that have started on a limited basis this summer. The interactive Art Explorers Gallery for children, opening in 2022, will complete the facility.
Mary Torggler and her husband George, of Maryland and Florida, are longtime supporters of arts and education programs at Christopher Newport. Through their generosity, the Torgglers aspire to create unique opportunities so that artists in both the performing and visual arts may flourish. Their son, Hunter Torggler, graduated from Christopher Newport in 2014 with a degree in music.
During the ceremony, George Torggler recalled how Mary Torggler used the phrase "art for all" to describe how institutions could work in harmony to make art accessible. He said that's what is unfolding at Christopher Newport with the dynamic combination of the Ferguson Center and the Torggler. He then concluded his remarks with a more personal sentiment:
"I wanted to dedicate a building to Mary, for all the positiveness and love that she has shown me, our family, friends, everyone whose life she has impacted. And so here we are, honoring that request – a magnificent building, named for a magnificent lady. "
Chief of Staff and Acting CEO Adelia Thompson thanked the Torgglers for helping President Paul Trible and former Executive Vice President Bill Brauer bring their vision for a fine arts center to life.
"Today we honor our precious friends George and Mary Torggler – their extraordinary generosity, their passion for the arts, their wonderful relationship with Christopher Newport spanning more than a decade," Thompson said.
"Mary, George and Hunter – we are so proud that this magnificent place will forever celebrate Mary's beautiful life and spirit, and her deep love for people, for art and its transforming and elevating power in our world."
Trible gave Glavé & Holmes Architecture the challenge of creating an architectural building that reconciled the modern aspects of the IM Pei and Cobb design of the Ferguson Center for the Arts with the classical aesthetic of the rest of CNU's Neo-Georgian campus. Their response was to envision a structure based on classical themes, like a dome, but made out of nontraditional modern materials like glass.
Thompson also thanked the many people who gave their time and talents to the facility, including Anne and Gus Edwards, who joined the Torgglers as the founding members of the Christopher Newport Arts Foundation; Mari Ann and Charlie Banks, longtime leaders of the arts; the team at Glavé & Holmes, including Steven Blashfield, Randy Holmes, Lothar Pausewang and Julia Williams; contractor Whiting Turner and the project management team of Jeff Howell, Payton King, Brain Bearham and Tyler Yates; Christine Ledford, vice president for administration and auxiliary services; and University Architect Michelle Campbell.
"The Torggler will have exhibitions that will bring renown to this university and this region, that will bring people to our area, that will make us all proud and that will inspire wonder and creativity and awe and may occasionally confound you – but that is what art does," said Executive Director Holly Koons. "Art has the power to be transformative, to make us think, to make us feel, to make us see things in different ways, and I am so honored to have this opportunity to bring amazing art and programs to this community."
Dr. Michelle Erhardt, associate professor of art history, joined Trible and Brauer in helping shape the vision for the Torggler. She served as their resident art expert adviser, in addition to her regular faculty duties, which included creating and directing the new interdisciplinary minor in museum studies and helping design the Torggler as both a public-facing fine arts center and a fully functioning academic building. She addressed the students whose works will be created inside the facility.
"Watching the Torggler rise up became a beacon of hope on some very, very, dark days," she said. "I speak for the entire academic community when I commend you, our student body, for your perseverance and steadfastness. It is my hope that the art that is created and exhibited here in the Torggler Fine Arts Center will inspire you, challenge you, facilitate dialogue among you and awaken creativity within each and every one of you as you boldly navigate and forge the future."
---