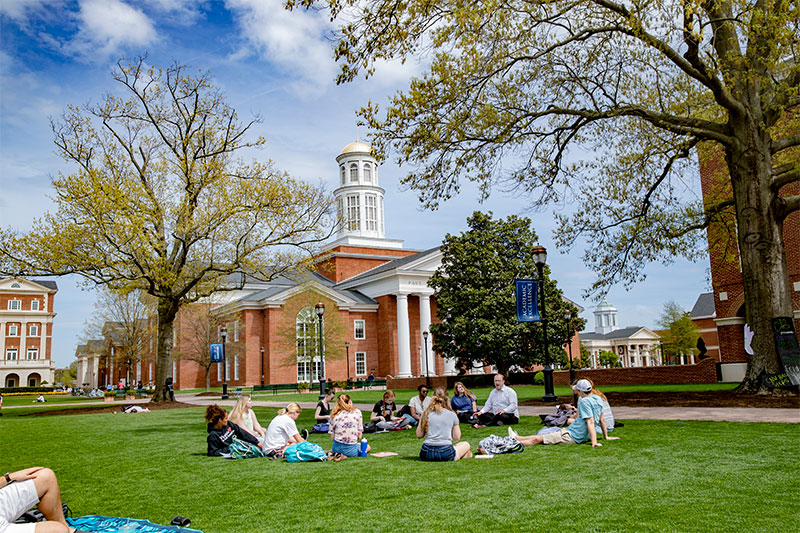 Read time:
---
Students attending classes this fall term will be required to be fully vaccinated against the coronavirus.
The Executive Committee of the Board of Visitors voted unanimously to adopt the requirement. It is subject to medical or religious exemptions. Free COVID-19 tests will be administered on at least a weekly basis for students who are not vaccinated and they will be expected to wear face coverings.
"This is the best way to protect our community while at the same time returning to a robust campus life reminiscent of what we all enjoyed before," said Rector Robert Hatten. "We would like to provide a living and learning environment for students this fall that is as close to the fall of 2019, pre-COVID, as possible."
Students must document they are fully vaccinated by August 1.
Individuals are considered fully vaccinated two weeks after the second dose of a two-dose vaccine series, or two weeks after a single-dose vaccine. Because the vaccine options can take as long as six weeks between the two shots and the waiting period for full efficacy, students should make sure they've had their first shot no later than June 15. Detailed instructions will be sent to students when the mechanism for documenting vaccination status is operational.
The reasons for adopting the mandate were described in the resolution adopted by the Executive Committee of the Board of Visitors and they include:
"The risk of transmission of the virus continues to present a threat to our community that demands the implementation of the most effective measures available for the protection of our students, faculty and staff, while continuing to make available the unique and personal educational experience that is the hallmark of our university to every extent possible.
"The Centers for Disease Control and Prevention have indicated COVID-19 vaccines are the most effective measure for preventing COVID-19 disease, especially severe illness and death, that they significantly reduce the risk of contracting and transmitting the virus and eliminate the need for many of the limitations and restrictions that have forced an unwelcome transformation of life on campus."
"On a residential campus like ours, we want students to be able to live and learn together and give back to this community," said Vice President of Student Affairs Kevin Hughes. "We want to see them, without masks if they wish, bring the campus alive like they have before."
The requirement for students is authorized in Virginia under an official opinion issued by Attorney General Mark Herring that said colleges "may condition in-person attendance on receipt of an approved COVID-19 vaccine during this time of pandemic."
Many returning students are already vaccinated, as are more than 90% of the faculty and staff, thanks in large part to the location of vaccine clinics on campus. Those clinics were made possible by the Virginia Department of Health, the city of Newport News, York County and other community partners.
The Executive Committee determined that at such time as the commonwealth requires state employees to be vaccinated, Christopher Newport is to do so as well with its faculty and staff.
---