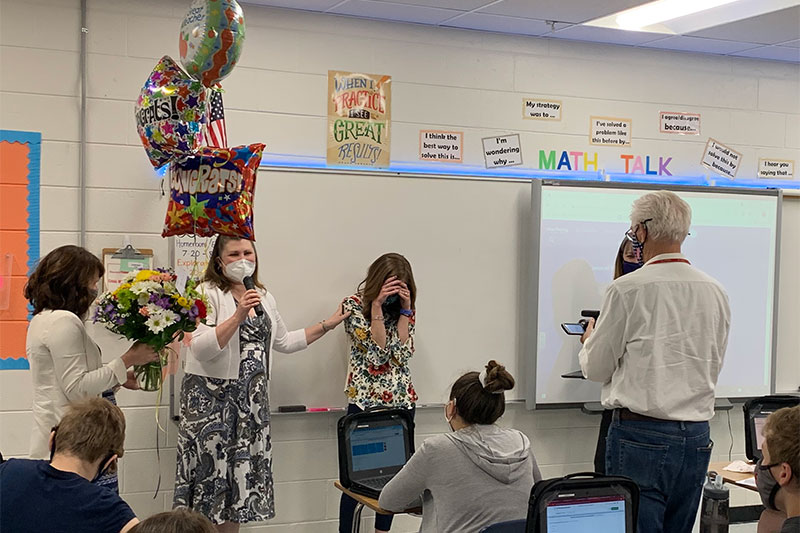 Read time:
---
Megan (Giunti) Harris graduated from Christopher Newport in 2006 with a degree in mathematics, and immediately began her teaching career in Gloucester County.
She teaches 7th grade math, pre-algebra and algebra I at Peasley Middle School and has been named the school district's teacher of the year for the 2020-21 school year.
Over the past 15 years, the Newport News native has taught a wide range of math classes, and also completed her master's of education in curriculum and instruction with a concentration as a math specialist from the College of William & Mary. Harris lives in Gloucester with her husband, Dustin, and two children.
She took time out of her busy schedule to answer our questions.
How does it feel to be named Gloucester County's Teacher of the Year?
It is an indescribable feeling! I was so shocked and honored just by seeing my name on the ballot for my school. My principal and assistant principal surprised me in the middle of teaching to announce that I was chosen for Peasley's teacher of the year and even had my husband on FaceTime!
A couple of weeks later, I was told the Gloucester Educational Foundation would be visiting to congratulate me. I thought nothing of it and figured it was in lieu of the typical celebratory dinner that we could not have due to COVID. Little did I know, they would show up with my family on Zoom to announce that I was also chosen as the overall middle school teacher of the year and then Gloucester County's division teacher of the year.
To be recognized for something you really enjoy doing and during such a crazy, challenging year is something I will never forget.
What has it been like teaching during a pandemic?
There is no education course that could prepare anyone for what teachers have had to go through since March 2020. I have had to step out of my comfort zone, embrace new learning platforms and find new ways to engage my students, especially when we were all virtual. It has definitely been challenging and stressful, but I have had some wonderful students this year and even enjoyed some of the chaos!
Why did you choose Christopher Newport?
I was born and raised in Newport News, and I was recruited and chose to continue my soccer career at CNU. I loved the smaller campus and the people, students and teammates I met while visiting.
How did your time at Christopher Newport make an impact on your career?
During my sophomore year, CNU changed the teaching degree requirements. We had to choose a specific subject to major in. I essentially stayed for soccer and the great friends I had already made and chose to major in mathematics knowing I wanted to teach.
I had some of the best math professors and made wonderful friends that I still keep in touch with and share ideas and resources. I still keep in touch with the women's soccer team and try to play in the alumni soccer game when my schedule allows.
---