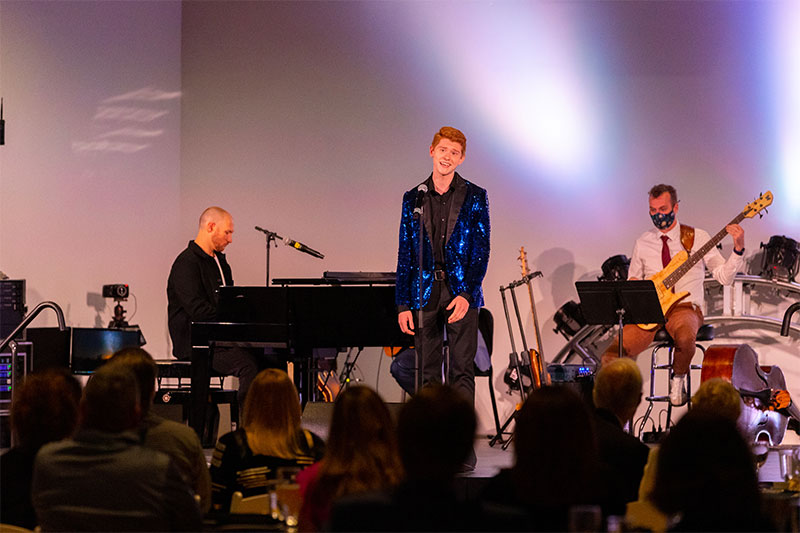 Read time:
---
Three Broadway stars brought their talent and teaching skills to Christopher Newport for "Captains Take the Stage – a TheaterCNU Captains Cabaret." It was one of the first events in the new Mary M. Torggler Fine Arts Center and made possible with backing from the Ferguson Center for the Arts.
Although the audience was small due to pandemic restrictions, it was a magical night for the students and a satisfying conclusion to an effort that began many months earlier for Ferguson Executive Director Bruce Bronstein and theater professor Colin Ruffer.
That's where one of the Christopher Newport performers, Adam LeKang '21, starts the story with this first person account.
---
The event had been more than a year in the making. In 2019, Professor Ruffer set out to create an experience for CNU students so they could perform in New York City. He and Bruce devised a trip with 15 music theater students to perform songs with and written by Drew Gasparini, Will Reynolds and Eric Price – all professional music theater composers. The scene was to be Feinstein's 54 Below, a popular musical theater dinner club. The date was set for March 28, 2020. As fate would have it, the performance was canceled due to the emerging COVID-19 pandemic.
Ever determined, Colin and Bruce set out to provide students with another chance for a performance of a lifetime. Rather than take the students to New York, they hit on bringing Broadway to Warwick Boulevard. In the fall of 2020, they hatched a plan to use the Torggler instead of Feinstein's 54 Below and they convinced Drew, Will and Eric to come to campus. Even better, because the students didn't need to travel, the visit by the trio could also include several days of workshops and masterclasses for all music theater students. This all culminated with two performances on April 24, 2021 where the composers accompanied each of their performers in a dinner club atmosphere for the evening show and a classic audience seating for a late show.
It was clear from the moment the week was over that this was something special for everyone who experienced it. Ty Norris '20 said that a highlight for him was walking onto a stage to perform again: "I haven't gotten to perform or feel that rush in over a year, so to once again look out and see an audience; it was magical." Colin and Bruce were adamant about giving those who graduated last year an opportunity to finally be able to do this cabaret. Emma Robinson '21 said that a highlight for her was seeing the growth from her friends and peers: "It was cool to be able to prove that TheaterCNU is producing great theater artists."
It was evident that the event showed a passion for creativity that each student of TheaterCNU possesses. John Byrd '24, Renee Kauffman '23 and Remy Thompson '22 all said that their highlight was being able to work one-on-one with the composers. John said that it was amazing to work with someone "who is established in the industry." Renee said that they were "so fun and supportive" of all of the students. As Remy put it, "they gave me a lot of insight and practical advice to use once I graduate."
It was an amazing and unique experience to be able to discuss character and expression with the people who wrote them into existence. The wonder of the night radiated out to the audience as well. Parent Linda Thompson said that the audience could feel the professionalism that came with a New York dinner cabaret. "The talent, the music, the lighting – extraordinary." Parent Dawne LeKang (my mom!) said it was amazing to see the cream of the crop performing that night: "There is an undeniable talent for the students of TheaterCNU." Music theater alums Ben and Noah Long, both '21, both said that their biggest takeaway was being able to see the composers Drew Gasparini and Will Reynolds perform. Ben said that it was a great opportunity to be able to compare the writing styles of two contemporary composers. Noah added "you could tell they really cared about their work and were excited to share it with the audience and students."
Professor Tanya Sweet, technical director for TheaterCNU, was part of the audience. "You could tell that all of the students were excited to perform. It was fun, funny and moving."
It is events like this that show TheaterCNU is a great place to nurture artistic expression with unparalleled experiences. All of it would not be possible without Professor Colin Ruffer, composers and lyricists Drew Gasparini, Will Reynolds and Eric Price, along with the Ferguson Center for the Arts and Bruce Bronstein, the Mary M. Torggler Fine Arts Center, and all of those whose support makes art happen.
---