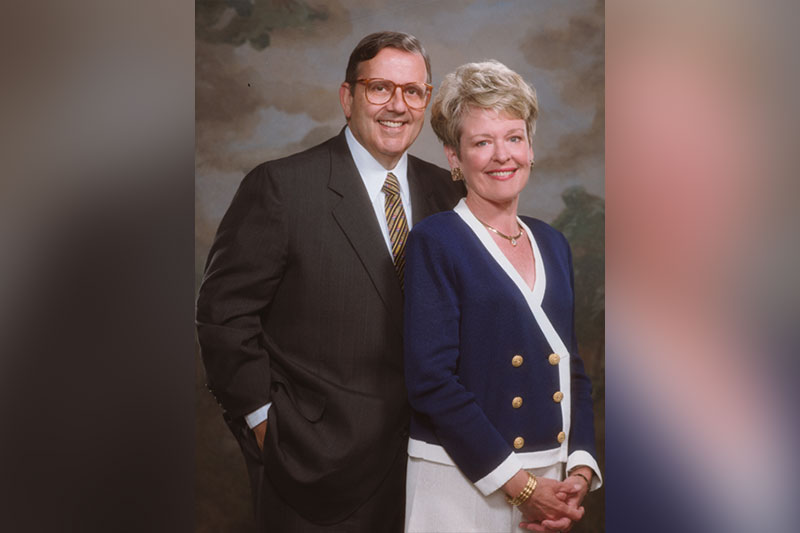 Read time:
---
Carol Kraemer Santoro, former Christopher Newport first lady and wife of professor and president emeritus Dr. Anthony Santoro, passed away on May 23, 2021. She was 78.
President Paul Trible, Dr. Santoro's successor, said Carol Santoro will be remembered for her contributions to the university that were both personal and professional: "Carol Santoro was a lovely and elegant woman who brought grace to her role as Christopher Newport's first lady. But most importantly, she was Tony's soul mate, fierce advocate, cherished counsel and conscience, and love of his life. I know – that kind love is rare, precious and the gift of a lifetime. Rosemary and I and the entire CNU family are holding Tony and Melissa (daughter of Anthony and Carol Santoro) close in our hearts."
During her years as first lady, Carol Santoro was involved in many aspects of campus life, as was noted in her obituary: "As a vital partner to her husband, she was an integral part of his academic career and became a champion for Christopher Newport following Dr. Santoro's appointment to its presidency. As first lady, she helped to oversee its historic transition to university status in 1992 and the opening of its first residence hall in 1995, which was named in her and her husband's honor, The Carol K. and Anthony R. Santoro Residence Hall."
At the dedication of that residence hall, Rector David Peebles read a resolution adopted by the Board of Visitors lauding Carol and Anthony Santoro for their "devoted and commendable service" that had benefited the university in many ways.
Carol Santoro's range of interests also benefited the region. She served as chair of the Speakers Bureau for the Virginia Peninsula Council on Domestic Violence; a volunteer at the Peninsula Fine Arts Center; a regular speaker at the annual meetings of the American Association of State Colleges and Universities; and a board member of the National Council of Christians and Jews. She also was also a board member of the Virginia Peninsula Camp Fund.
Emeritus history professor Dr. Mario Mazzarella recalled both the depth of service and the warmth of her friendship: "Carol was my friend from the moment we met. This is not surprising as she was always gracious and charming. But she was much more than that. Dr. Santoro often referred to his wife's wise counsel and discerning judgment of policies and people as invaluable in helping him fulfill his responsibilities as president. Christopher Newport University and all of us who knew her as first lady will remain forever in her debt as she will remain forever in our memory."
---