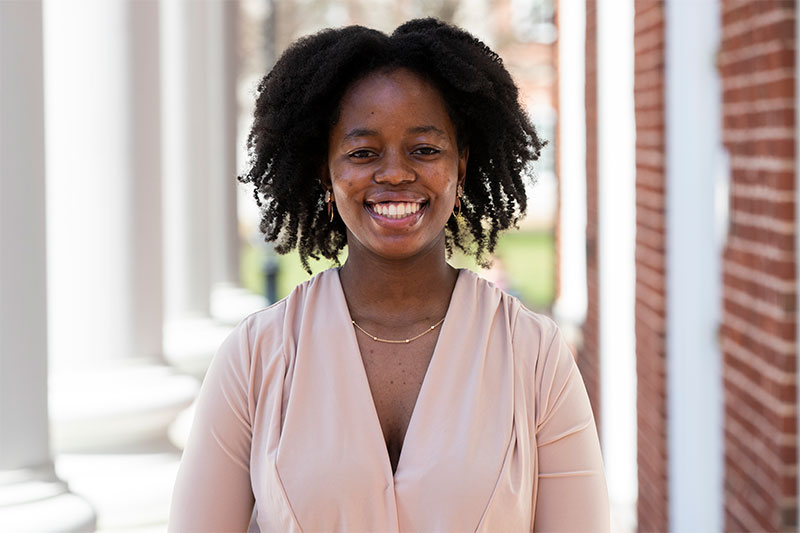 Read time:
---
Tongase "Toni" Booth '22 has been awarded the prestigious $10,000 Dominion Energy Equity Scholarship.
A junior studying neuroscience and biology, Booth is one of 40 students at two- and four-year institutions to earn the scholarship. She is minoring in leadership studies and is a member of the President's Leadership Program.
The scholarship is one of the first made under Dominion Energy's new six-year, $10 million initiative to assist African American and other underrepresented minority students who reside in the company's service area.
Booth is originally from Lusaka, Zambia and grew up in Germantown, Maryland before moving to Virginia for high school and to enroll at Christopher Newport.
"When I found out about receiving the scholarship, I was in shock and I was very happy," Booth said. "I am incredibly grateful that I received the scholarship because it has relieved the financial burden of paying for my last year."
Booth is a certified EMT, Air Force reservist and Bonner Service Scholar. She spends 300 hours per academic year with the Virginia Beach Justice Initiative working on human trafficking advocacy and prevention, and provision of support services for victims.
She plans to attend graduate school en route to a career as an emergency medicine physician.
"We are so proud of Toni, both for her accomplishments that resulted in this scholarship and for her commitment to serving the community through a career in medicine," said Dr. Angela Spranger, CNU's chief diversity, equity and inclusion officer. "Toni earned this recognition, through merit, character and discipline. I'm happy to encourage her, and other students, in the pursuit of opportunities like this. Even more so, I'm grateful to my colleague Tonya Byrd at Dominion Energy for ensuring that we knew about this opportunity."
---