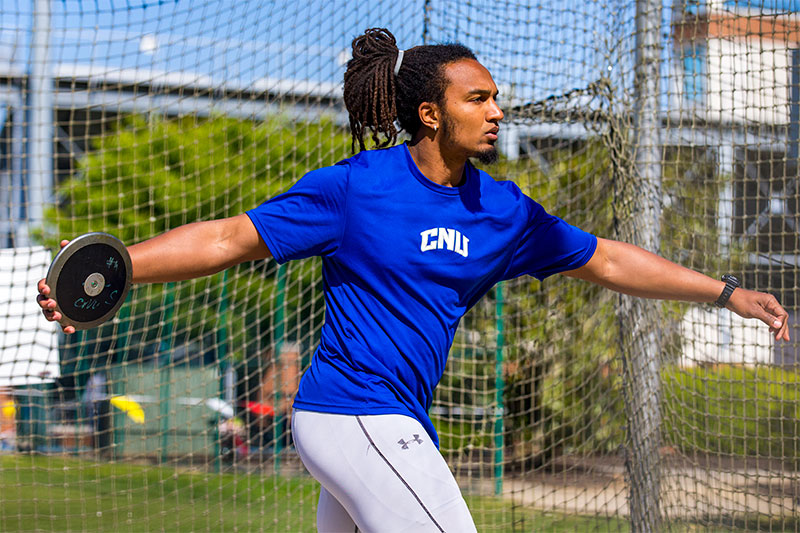 Read time:
---
Legend Boyesen Hayes '18 will proudly represent Christopher Newport in the Olympic Track and Field Trials this week as he competes for a spot on the U.S. team at the Tokyo games.
Hayes, who majored in communication, is one of the nation's top athletes in the discus and has a solid shot of emerging from the trials in Eugene, Oregon with a spot on the Olympic team. He'll have his former teammates and coaches in mind as he competes.
"I'm thankful for all the people that have had a positive effect on me in my career and personal development, especially my family and teammates," Hayes said. "I've chosen to chase my dream and I'm taking it on one day at a time."
"I'm looking forward to pushing the boundaries of what it means to be a (NCAA) Division III athlete graduate," Hayes said. Pushing boundaries in athletics also defined Hayes' time as a Captain. He set a school record in the discus and won All-American and all-conference honors. He also played wide receiver for the Captains' football team. Two-sport athletes are rare at any level of NCAA competition.
Since graduation, Hayes has focused on athletics, training six days a week for the trials and also working at a gym as a personal trainer and directing the gym's social media accounts.
"I'm really excited about reaping the benefits of the work I put in these past two and a half years outside of college," Hayes said. "The Olympic trials was my No. 1 goal this year." He's accomplished that, which means the next goal is Olympic gold.
---