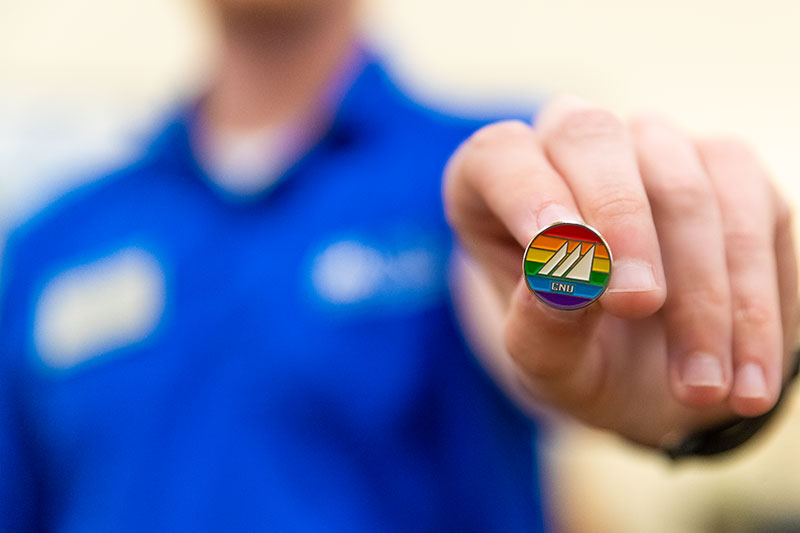 Read time:
---
A new group on campus is providing a welcoming space for LGBTQ+ faculty and staff and their allies to find community with one another.
Vice Provost Dr. Geoffrey Klein spearheaded the creation of the LGBTQ+ and Allies Faculty/Staff Affinity Group over the past several years.
His motivation was twofold: he was inspired by the Collegiate Women's Network and its efforts to bring women across Christopher Newport together; and, as a gay man in a leadership role on campus, he recognized the need for more voices to serve as a resource on campus for those who identify as a member of the LGBTQ+ (lesbian, gay, bisexual, transgender, queer and questioning, and other sexual identities) community at Christopher Newport.
Key, Klein said, is that the group is open both to members of the community and those who want to be supportive friends and colleagues. That broad scope was a conscious choice, Klein said, designed for anyone to join without needing to be publicly identified as LGBTQ+.
"It really is about just creating a community that people can feel comfortable in however they identify, whether it's as an ally, or somebody who's gay, someone who's transgender – it doesn't make a difference," he said.
By having a broad coalition of members, everyone feels welcome, Klein said: "There is power in numbers."
After planning meetings, drafting a purpose statement and identifying goals, the group got underway in earnest this past academic year.
So far the group has kicked off a speaker series and newsletter, held a virtual social, and began a program to connect members as a sort of "buddy" program. All the events – with more in-person ones to come starting this fall – were designed to bring people together in a positive, accepting environment.
"I think this group helps to contribute to the sense that diversity isn't just one thing, that we can think about diversity of thought, diversity of individuals, orientations or skin color," Klein said. "I think it's nice to be able to have these types of opportunities for these communities to get together and have conversations that help move the campus community forward in the wide efforts for enhancing inclusion and diversity."
One active member is alumna Jessie Deal, who graduated from Christopher Newport in 2015 with a degree in environmental biology and in 2017 with her master's in environmental science. Deal serves as the community engagement coordinator in the Center for Community Engagement (CCE).
During COVID downtime last summer, watching people on TikTok helped Deal discover her own asexuality. When she saw an email from Klein last fall inviting people to join the group, she jumped at the opportunity.
"I was like, 'Absolutely I want to be involved in this community I've just become a part of.'" she said. "This is a great way to network with people who were my professors who are now my co-workers."
Deal quickly became a member of the affinity group's advisory council, where she helps plan events and newsletters. The group distributed a message on National Coming Out Day on October 11, 2020, the same day she publicly "came out" as asexual.
In her role in the CCE, she regularly interacts with students. While the affinity group is specifically designed for employees, Deal hopes that its reach will touch the lives of the students with whom she works every day.
"I think it provides opportunities for mentorship, support and knowledge," she said. "A big reason why issues perpetuate is from a lack of knowledge or lack of understanding. I think the affinity group can help provide support and resources to allies or other members of the community."
To get involved with the LGBTQ+ and Allies Faculty/Staff Affinity Group, contact Klein at geoffrey.klein@cnu.edu.
---