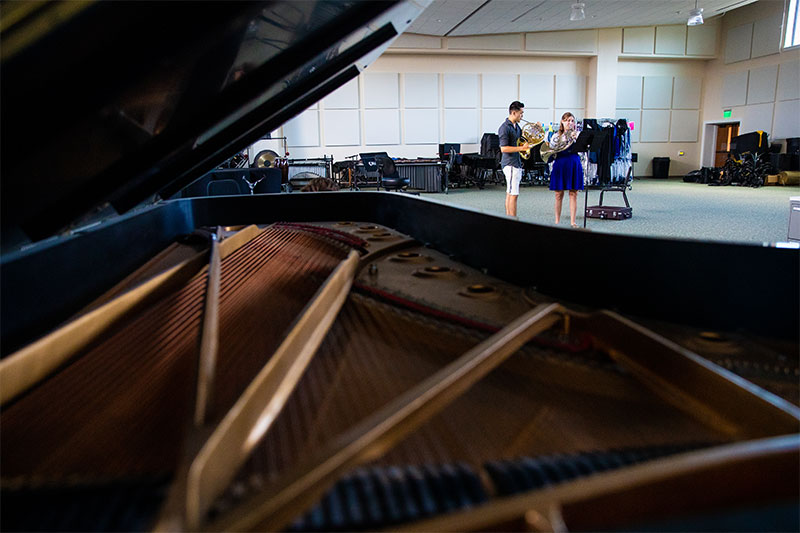 Read time:
---
Sam Brady '22 is taking part in a unique Christopher Newport program that will give him a head start on his future studies.
After he graduates with a bachelor of music in French horn performance, Brady plans to pursue a master's in orchestral conducting. Those programs are highly competitive, often accepting just a couple of students each year. So when Brady had an opportunity to be part of a paid research project with Dr. Chelsey Hamm, director of music theory, he jumped to apply.
The Newport News native and Honors Program participant is spending the summer working with Hamm to create a free, open source music theory textbook. The project is part of Christopher Newport's Summer Scholars program, an initiative of the Office for Undergraduate Research and Creative Activity that funds research for dozens of undergraduates each summer.
Through Summer Scholars, students work one-on-one with a professor, conducting experiments in the field, gathering and analyzing data, and, in Brady's case, extensively researching centuries' worth of music theory literature. Over the eight-week program, students are paid for their work, receive free on-campus housing and myriad opportunities to learn more about undergraduate research.
Brady is the first music major to participate in the program and is already reaping the benefits of this level of research, rarely accessible in undergraduate careers. Read and watch more about Brady's experience as a Summer Scholar below, and follow along as he takes over the Christopher Newport Instagram page.
Tell us about your project.
What I'm doing is research in music theory, specifically research in pedagogical methods of music theory. So I'm learning how to teach. I'm a part of a team that's, along with my mentor Dr. Hamm, creating the first-ever open-source, free online music theory textbook.
The goal is to try to make music theory a lot more accessible to everybody. And because it's online, we're trying to bring it to the 21st century with audio examples, video examples, interactive exercises, things like that where students can really start to try to engage with the material a lot more in a more modern context.
So what does a typical day look like?
It's a lot of reading. I went into this thinking it'd be a lot different, but it's more of a creative thought process than I thought it would be. I thought, "Oh, I can explain all of this like the back of my hand. I've been doing it forever." But when you get down to the really fundamental stuff like, how do we define what a rhythm is, how do you define what a beat is, it completely threw me for a loop. So I spend a lot of time reading and editing, working with Dr. Hamm, all to figure out how to explain that to other people.
What's been the best part of your experience so far?
We had a gathering of the Summer Scholars working in arts and humanities, and it was really cool to see everybody's different interests. The other person working in the field of music is doing something completely different from me, where he's trying to write a computer program that can tell what period a piece of music is from given an image, which is incredible! Other people are doing archaeology research or going on digs or reading a lot of literature about philosophy. There's a student who's trying to find the genesis of negative emotion, and I'm just like, this is just so out of my league, but it's so cool.
It's a really, really amazing little community that comes out of this every year, and I didn't think that I would appreciate it as much as I do.
What are you going to miss the most about Summer Scholars?
Being able to go out on my own and find my own interests. School is great, I love school, but there is sometimes that missing aspect of, how does this apply to something that I've been wanting to do since I was little? Or, how am I improving these skills that are going to make me a really good candidate in the field?
And I think that Summer Scholars lets you do a lot of that exploration on your own while still having a safety net and somebody to talk to.
---