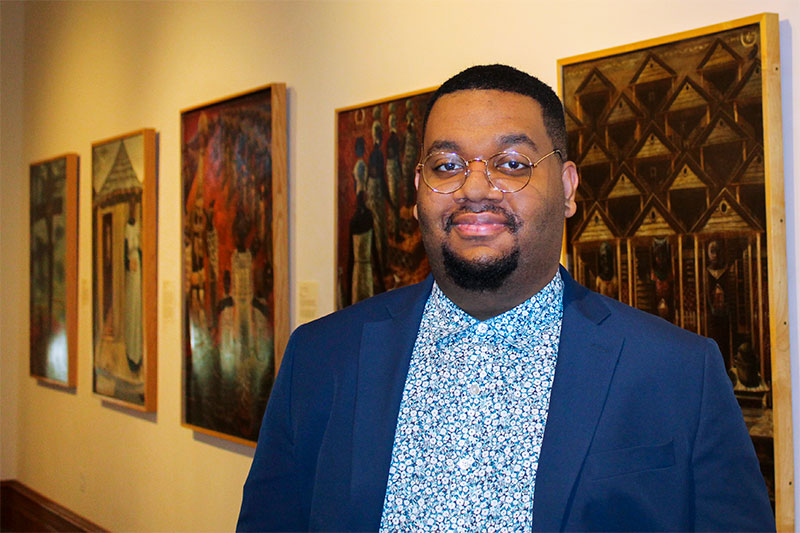 Read time:
---
John Biggers. Elizabeth Catlett. Jacob Lawrence. Henry Ossawa Tanner.
Those artists may not be household names like Michelangelo or Vincent Van Gogh, but Kenlontae' Turner '17 would argue they have been just as impactful on art history – and he wants to make sure you know about them.
The works of these and many other African American artists are preserved in the Hampton University Museum, the country's oldest African American museum, the oldest museum in Virginia – and only a few miles from Turner's alma mater.
As curator of collections, he is tasked with helping preserve and promote their important history and influence.
"That's definitely my long-term goal, to shed more of a light on the artists who may not have gotten the recognition in the past," Turner said from his office at the historically Black university.
"There's a lot of culture and history and content in our artwork here that I'm really excited for more people to see. We have such a treasure trove here and people just don't know about it."
Turner has always been a lover of art, he says, starting from a young age. His mother taught him to color within the lines of his Power Rangers coloring books, and from that point on he saw or created art everywhere he looked. Throughout high school and college, the Newport News native interned for the museum, helping Director Dr. Vanessa Thaxton-Ward and Associate Curator Crystal Johnson '05, as he does now.
While at Christopher Newport, he majored in studio art and minored in museum studies and art history, giving him insight across the spectrum of the professional art world. In his senior year, he served as student manager of the Department of Fine Art and Art History's Falk Gallery.
Turner broadened his knowledge of the art world by being among the first students on campus to complete the newly minted minor in museum studies. From there, he devoured as much global art history as he could, studying modern Mexican art, Asian art, African art and anything else he could learn more about.
"What stuck with me was that most art history courses that are 'general' put a really large emphasis on European art – there's nothing wrong with that! – but there are a lot of times where the other cultures are short-changed or stuck in at the very end of the semester," he said. "It became very obvious to me that the art world was very colonized, they put certain artwork at the center of the art world and kind of look at other artists, especially Black and Native Americans, as being inspired solely by European art."
After commencement, Turner pursued his graduate degree in art and museum studies at Georgetown University. While in Washington, D.C., he interned at several Smithsonian museums, including the National Museum of the American Indian, the Freer and Sackler Galleries and the Hirshhorn Museum and Sculpture Garden.
Turner's experience at the National Museum of the American Indian is especially relevant to his new role; from 1878 until 1923, the then-named Hampton Normal and Agricultural Institute educated over 1,400 American Indians. The museum was founded in 1868, the same year as the university, and was first dubbed a "curiosity room" by founder Gen. Samuel Armstrong.
Today the museum works to collect, preserve, study, exhibit and interpret artifacts and works of art which illustrate the cultures, heritages and histories of African, Native American, oceanic and Asian peoples. The collection also boasts the works of contemporary African American, African and American Indian artists.
Turner is working to make its collections even more accessible to those who may not traditionally see themselves in art museums. As an intern, he helped out with summer programming that touched the lives of K-12 students from Hampton Roads. Despite starting at the onset of the pandemic, which has closed the museum's doors for over a year, he's been able to leverage online resources to put on programming about civil rights and the arts, tying last summer's protests after George Floyd's death to past social justice activism.
He plans to continue the work, helping to amplify the voices he first heard so clearly through his world art history courses.
"This work is a reminder of how important programs and museums like these are, especially for Black and brown students. Many have probably never been to a museum and have never seen people who look like us and have not seen artwork that represents our culture and history," he said.
"Everyone loves a da Vinci and a Picasso, and all of them are rightfully considered master artists, but Elizabeth Catlett and John Biggers were master artists as well. There are so many artists who aren't in the art historical textbooks that should be. I think after this year, we have to really reflect on how we see our own institutions and try to break those problematic institutional structures."
---