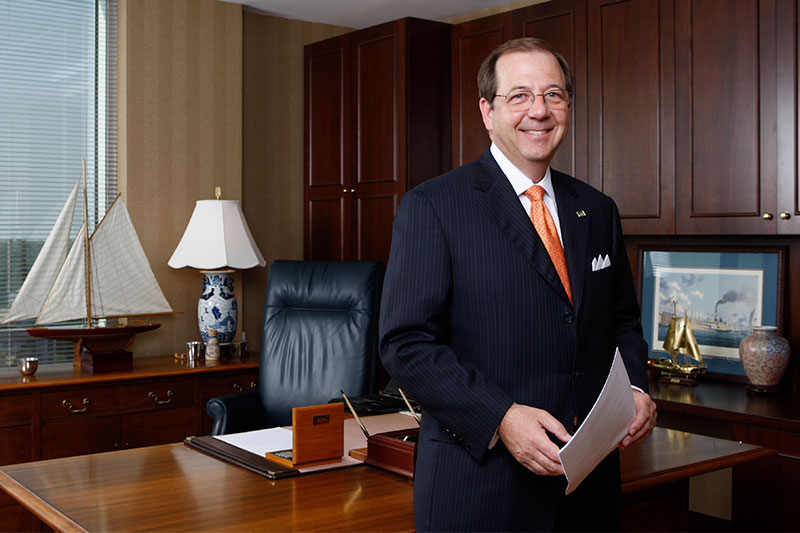 Read time:
---
Alan Witt, one of Virginia's most highly regarded corporate and civic leaders, has been appointed dean of the Joseph W. Luter, III School of Business.
Witt is uniquely qualified to connect Luter alumni with top employers nationwide, enhance the school's profile and grow financial support for its scholarships and programs.
"Alan has been an exceptional leader for his alma mater, our community and the commonwealth for decades. His agreement to step into this new role at this time in his life will bring extraordinary opportunities for our students and further expand the reach, reputation and positive trajectory of our Luter School of Business," said President Paul Trible.
Witt has been serving as one of Luter's executives in residence after a distinguished career in business, capped by his leadership of PBMares. The company has grown into one of the top 100 accounting and business consulting firms in the nation with clients both nationally and internationally and expertise in audit, tax, wealth management and investment banking. Witt retired as the CEO of PBMares in December, 2020.
As an executive in residence, Witt has been teaching an accounting class and serves as co-chair of the Master of Financial Analysis Partners Council. "I'm a proud alum, a Captain for Life and am honored to have this opportunity to serve the school and university that I love so much," Witt said. "Getting to know the students and faculty as an executive in residence has been inspiring. I look forward to getting more deeply involved in the daily life of the campus and in leading Luter on a path to continued success."
Success has followed Witt throughout his business career. He is credited with leadership in the development of City Center in Newport News, a sparkling open-air shopping, entertainment, office and residential complex close to campus. His other contributions to the success of the regional and statewide economy include:
Current chair of the Virginia Chamber of Commerce
Former chair of the board of Riverside Health System for 16 years
Service on the following boards:

Peninsula Alliance for Economic Development Alliance
Newport News Economic Development Authority
Chesapeake Bay Bridge Tunnel Commission
Reinvent Hampton Roads
Commonwealth Transportation Board
Hampton Roads Business Roundtable
Greater Peninsula Now
TowneBank
An array of community organizations has also benefited from Witt's expertise, including:
Peninsula Community Foundation
Newport News Education Foundation
United Way of the Virginia Peninsula
Newport News Police Foundation
Newport News Green Foundation
Fear 2 Freedom
Witt has been recognized by the Daily Press as the Citizen of the Year in honor of his leadership and service to our community. Virginia Business named Witt to the 2020 Virginia 500 Power List. Witt was recently honored by An Achievable Dream Academies and PBMares. Achievable Dream's Class of 2021 graduates are known as the Alan S. Witt Scholars thanks to support from PBMares.
Witt has served on the Christopher Newport Board of Visitors and as rector of the Board. Witt and his wife Debbie, also a Christopher Newport graduate, spearheaded the fundraising for the Marcus Cooper Trading Room in the Luter School of Business.
"Alan Witt's accomplishments as an accountant, businessman, entrepreneur and leader are well known, and his incredible network of contacts will help build support for Luter across Virginia, both in fundraising and in placing graduates in business careers," said Provost Dave Doughty. "His connections to Christopher Newport as an alumnus, former Board of Visitors member and rector, and chief fundraiser for the Marcus Cooper Trading Room, testify to his love for, and belief in, Christopher Newport in general, and the Luter School of Business in particular."
Witt succeeds George Ebbs as dean. Ebbs is retiring and will serve as an executive in residence at Luter for the remainder of the year.
Doughty highlighted accomplishments during Ebbs' six-year tenure. The school was re-accredited by the Association to Advance Collegiate Schools of Business and new programs were launched to bring students and business professionals together from across Virginia. The school also earned high rankings from the business news website Poets & Quants, including the distinction of being named one of the top 10 in the nation for the value of the degree it offers.
Additionally, a Luter team won the Bloomberg Trading Challenge, a national competition that tests the investment skills of 266 teams from 81 universities, including both graduate- and undergraduate-level teams.
---