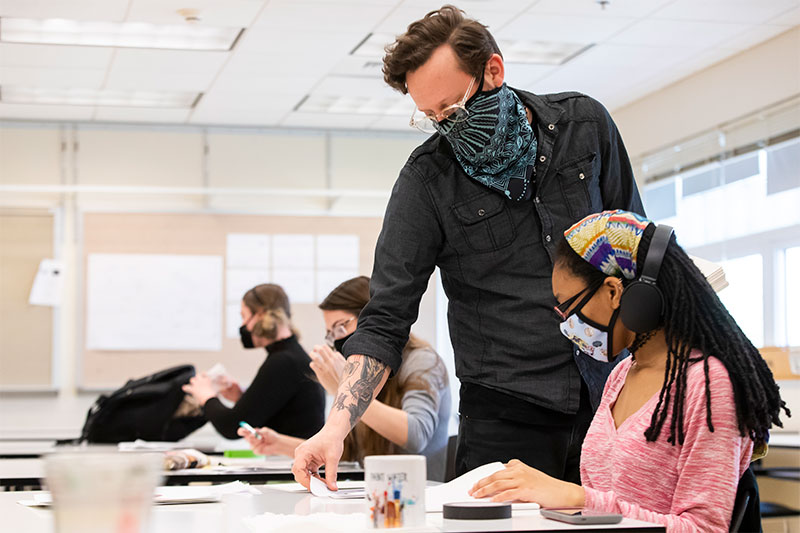 Read time:
---
Richmond-based artist Ryan Lytle '15 draws from animal symbolism to speak to audiences through his large, needle felted sculptures. Lytle honed his craft at Christopher Newport as a studio art major. After graduation, he completed his master of fine arts from the Rinehart School of Sculpture at the Maryland Institute College of Art.
Lytle now serves as an adjunct professor in the Department of Fine Art and Art History, helping fellow fine art and art history majors find their own voices as artists in the new Torggler Fine Arts Center.
Experience Lytle's work at Torggler when it opens to the public on October 30, and read on to learn more about his work as an artist and an educator.
Tell us a bit about your work and your teaching.
As an artist I love when I can take an idea from my head and express it in the physical world. My favorite part about sculpture is that the work exists on the same plane as us. We can do our best to create illusions, but the work has to follow the same rules as everything else in our world, at least in terms of gravity and occupying real space.
I like to think my studio practice and teaching inform each other. I get ideas for new projects and concepts from my research or experimentations in the studio. At the same time the processes and subject matter of whatever I am teaching at the time find their way into my studio practice. For example, I began researching 3D printing and modeling in 2019 to help work it into our 3D design and sculpture classes, and I now find myself 3D printing components for my personal work.
I have taught courses in 2D design, 3D design, ceramics, sculpture, fiber and a portfolio prep class. You could probably look at the work I was making at these times and guess what I was teaching. I really enjoy teaching and helping the students to not only learn new ideas and concepts, but also to find new mediums with which to express themselves.
What does it mean for you to be teaching art at your alma mater?
It means a lot to me to be able to contribute to such a great department. When I was a student, I received so much support in everything I was trying to do both professionally and academically. My former professors turned colleagues have continued to help with any professional hurdles I come across. Now I am able to share what I have learned with my own students which is a pretty great feeling. Honestly, it feels like coming home.
We are all excited for the Torggler and the opportunities that come with it. We will be able to push our already established disciplines even further. A part of me wishes I could go back and take classes again.
Much of your work is animal-based sculptures. Why animals? And how do you make them?
Whether it is pets, in nature, films and cartoons, or mythology, I have always been drawn to animals. As a kid I had an extensive stuffed animal collection. These fascinations of animal archetypes, images and myths have resurfaced as visual vocabulary in my work.
My works are primarily created through the process of needle felting. There is a comfort that is embedded in the nostalgic material. Needle felting is done by compressing raw wool with a barbed needle into a form. Every area is stabbed hundreds of times with a single needle until the desired density is formed. This medium allows me to sculpt works within a surreal space that is both disarming and inviting.
The process I use to build my sculptures was developed during my time at Christopher Newport. I learned how to needle felt in a mixed media class and I learned how to build armatures and work on large pieces in my sculpture classes. I wanted to find an efficient way to build larger and 'louder' needle felted sculptures than what I was seeing. The smaller pieces take a week or so, but the larger ones can take a couple of months. Building the armature, or underlying support structure, is the longest part of the process. The needle felting part, although repetitive and tedious, more or less follows the design of the structure.
Has the pandemic affected your creative process?
I think we have all had to become more comfortable with the digital world, for me that means teaching, exhibitions, openings and just generally getting my work out there. I spent a lot of time developing new skills such as rug tufting and 3D printing. At one point I had converted about half of my studio over to producing face shield visors for hospitals using printers on loan from the department.
---