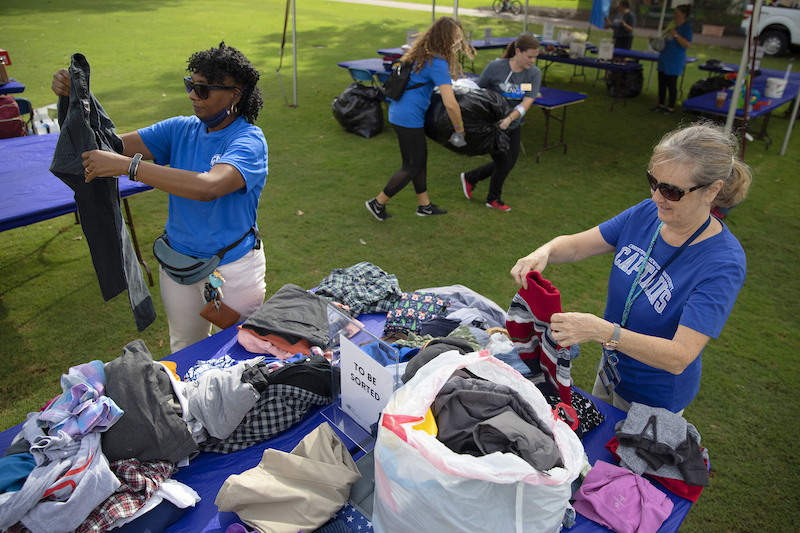 Read time:
---
The invitation to donate clothing that was emailed to students, faculty and staff began with this message: "Christopher Newport University is a place of welcome and warmth for all who experience our beautiful campus and friendly community … right now, we have the chance to expand this spirit of welcome beyond the 757."
The invitation from the Center for Community Engagement (CCE) went on to ask for donations of clothing and other items to assist more than 6,500 refugees, including 2,100 children, who have been resettled from Afghanistan to Virginia. Most arrived here with little more than the clothing on their backs and are being housed in barracks on military installations.
Those refugees will certainly feel a spirit of welcome.
Bags of clothing by the hundreds came pouring in. So did stuffed animals and toys and hygiene products and diapers and so much more. The goods came from students, faculty and staff on campus and it came from across Newport News. Teachers at a high school filled a van and sent it over. Others filled bins at a Captains football game or left items at the drive-through locations on campus.
In just four days, the staff and volunteers from CCE collected so much that the bags filled the Board Room at David Student Union and were piled up in other available spaces.
Then came Sorting Day.
Under tents on the Great Lawn, under the direction of CCE Director Vanessa Buehlman, dozens of volunteers opened the bags and divided the donations into carefully folded piles. Womens clothing over here. Men over there. And so much for the children.
A Daily Press reporter stopped by. So did a TV crew. And for hours, waves of volunteers made sure those 6,500 refugees will have much more than the clothing on their backs. They will be warmed by the spirit of Christopher Newport's welcome.
---