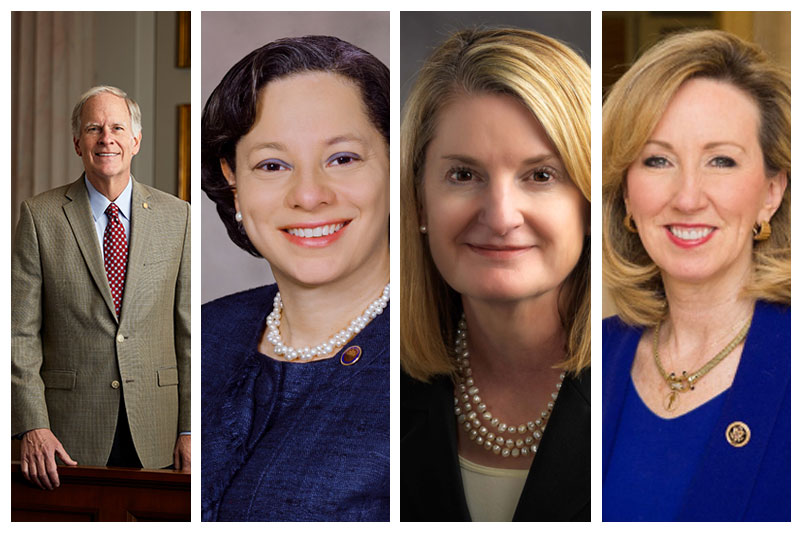 Read time:
---
On Tuesday, the Wason Center for Civic Leadership will welcome its inaugural class of Distinguished Virginians to Christopher Newport University to inform and inspire students to be the next generation of civic leaders for our commonwealth and country.
The Distinguished Virginians program is part of the enhanced mission of the Wason Center which, combined with survey research work, will focus on the hearts and minds of students as they are trained to be values-driven, evidence-based leaders ready to solve real problems and serve the world. The Distinguished Virginians are prominent civic leaders from across the commonwealth who share a commitment to service, collaboration and improving the quality of life of the people they serve.
Fall 2021 Distinguished Virginians
Virginia Supreme Court Justice Bill Mims
Mims has served on the Virginia Supreme Court since 2010. He has served as a member of the Virginia House of Delegates, a state senator, the chief deputy attorney general and the attorney general of Virginia.
State Senator Jennifer McClellan
McClellan represents the 9th district in the Virginia State Senate. She has been a leader in the Democratic Party and General Assembly for over 14 years, where she has led the passage of landmark laws to invest in education, expand access to health care and tackle climate change.
Hampton City Treasurer Molly Ward
Ward has been the Hampton city treasurer since her election in 2017. She has served as the secretary of natural resources for Governor Terry McAuliffe, special assistant to President Obama and deputy director of intergovernmental affairs at the White House. She has also served as mayor of Hampton.
Former Congresswoman Barbara Comstock
Comstock was the first woman elected to represent Virginia's 10th Congressional District in 2014 and served for two terms after serving in Virginia's General Assembly for five years. As a junior lawmaker, she was named one of the "Top 10 Most Effective Lawmakers" in the 115th Congress. She is an ABC contributor and now leads the Barbara Comstock Program for Women in Leadership at George Mason's Schar School of Public Policy.
"The future of our country depends on inspiring young people to become engaged citizens willing to serve and lead and make our world a better place," stated Christopher Newport President Paul Trible. "I am excited for our students to be inspired by the experiences of our most successful civic leaders. I want to congratulate the fall 2021 Distinguished Virginians on their service to our commonwealth and thank them for their commitment to our students."
The Distinguished Virginians will:
Speak to the President's Leadership Program about their leadership journeys and participate in a Q&A with students and the Christopher Newport community
Host discussion groups with students on a wide variety of topics, including the proper role of the Supreme Court in civic life and government, how we approach health care in light of the COVID-19 pandemic, how to mitigate the impacts of climate change, how misinformation is contributing to political polarization, and the experience of women in politics
Host office hours with students to discuss career goals and challenge them to seek public service and leadership opportunities
---