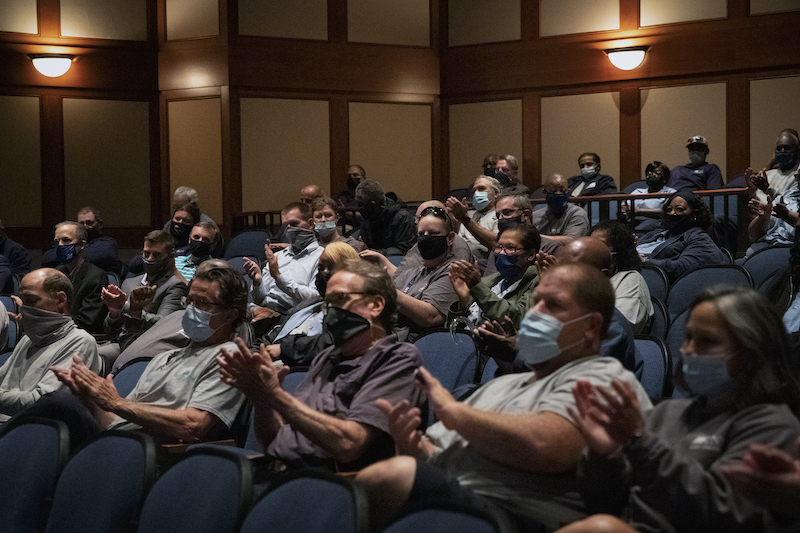 Read time:
---
President Trible sent the following message to the campus community:
---
Dear Colleagues:
Today has been a good day at Christopher Newport as we thanked some of our most important colleagues and awarded them substantial bonuses. It is also a day when we announced meaningful actions to affirm our university as an employer of choice in Hampton Roads and Virginia.
More than 200 of our colleagues who serve on the frontlines joined me in Gaines Theatre. I told them how grateful we were that they worked so faithfully since the arrival of the pandemic 18 months ago. These good folks could not telework. They had to come to campus to clean our classrooms and offices, to make sure that everything in our buildings continued to operate, to prepare and deliver food and to keep our campus beautiful.
Each of those coworkers received a check for a substantial amount of money. Those who were with us since the beginning of the pandemic received $500 and more recent hires received a bit less.
We are taking significant steps to hire more workers and fill the many vacancies on our campus. We are streamlining the hiring process, holding a job fair in the Freeman Center on October 12 and opening a hiring center in CNU North. Please share this information with anyone you know who may want to join us. We must all be recruiters.
Importantly, on October 1 our minimum wage will increase from $10.50 per hour to $13.00 per hour. This is a 24% increase and will more appropriately pay 136 of our current colleagues! For example, a member of our staff who is earning $22,000, will now earn $27,040 a year – an increase of more than $5,000.
Finally, we will soon engage an HR consulting company to conduct a comprehensive market analysis of all staff salaries. Our intention is to do more in the days ahead.
Thank you for all you do every day to make Christopher Newport so special and so successful!
Paul Trible
---