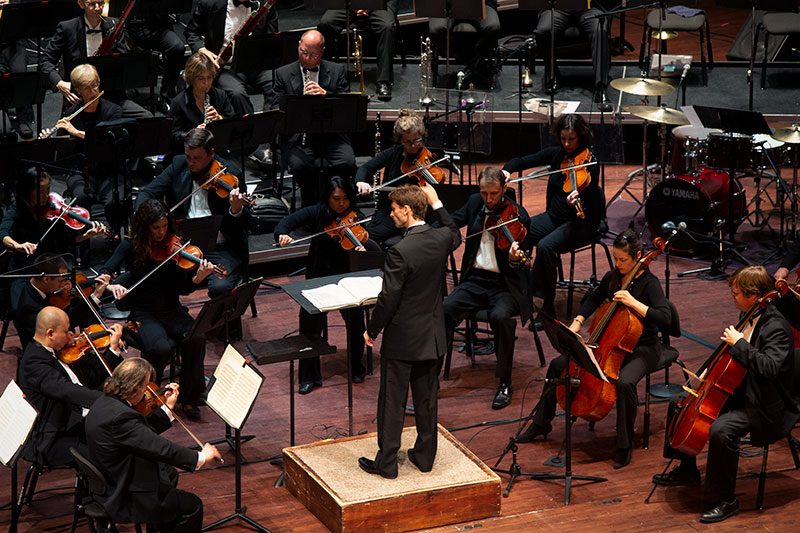 Read time:
---
Christopher Newport University will celebrate its 60th anniversary with Symphony Under the Stars on Friday, October 1, at 7:30 p.m. on the Great Lawn.
The Virginia Symphony Orchestra under the direction of Erin Freeman with a special guest appearance by Nick Ziobro will perform an evening of music for the campus community and the general public with no tickets required.
Food trucks, fireworks and other festivities will add to the celebration, sponsored by Weymouth Funeral Home and State Farm/Patty Heath Agency. Blankets and coolers are permitted, but no pets.
Concert-goers who are not fully vaccinated against COVID-19 must wear masks outdoors if they can not maintain a minimum of six feet of distance from others. All attendees must wear masks if they enter university buildings. Signs will direct visitors to free parking. The concert was previously scheduled for the lawn in front of the Ferguson Center for the Arts and the Mary M. Torggler Fine Arts Center but it has been moved to the Great Lawn in the center of the campus.
The program includes these selections:
"Can-Can - Selection for Orchestra" (Cole Porter, composer)
"This Guy's in Love With You" (Hal David)
"Lotta Livin' To Do/Shall We Dance" (Charles Strouse)
"Duke Ellington! A Medley for Orchestra"
"Forever Young" (Marian Gold)
"I've Got You Under My Skin" (Cole Porter)
"An American in Paris" (George Gershwin)
"Patriotic Sing-Along" (James Hosay)
The program will be conducted by Freeman, who serves in multiple positions in Virginia and maintains a national presence through guest conducting engagements. She is director of the award-winning Richmond Symphony Chorus, artistic director of Wintergreen Music, director of choral activities at Virginia Commonwealth University and resident conductor of the Richmond Ballet, the state ballet of Virginia.
As the only full-time professional symphony orchestra and the largest performing arts organization in southeastern Virginia, the VSO and VSO Chorus present more than 150 concerts and events annually for more than 100,000 residents and visitors. One of its homes is Christopher Newport's Ferguson Center for the Arts.
---