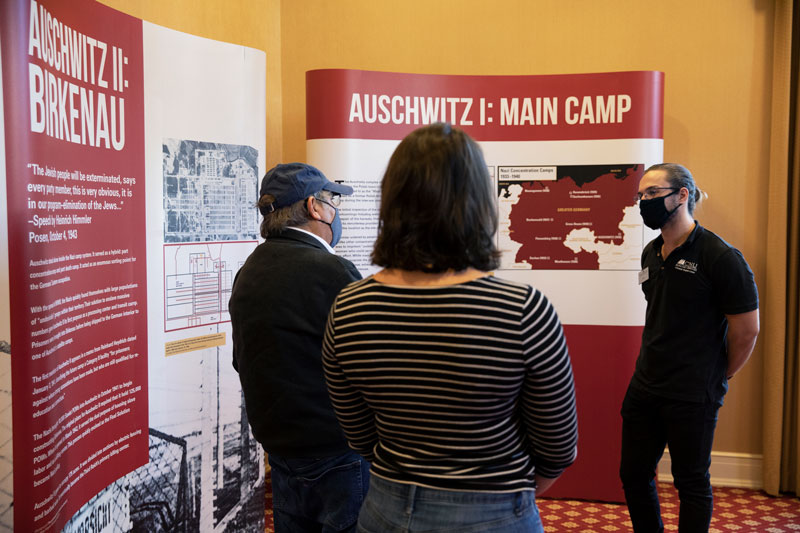 Read time:
---
"Auschwitz Oświęcim" – photos of the Nazi concentration camp will be on display at Pope Chapel beginning Wednesday, October 27, at 8:30 p.m.
The photos, provided by the Virginia Holocaust Museum, were last on public display five years ago in Richmond. The exhibit is designed as a commemoration to local survivors who endured this notorious camp and it serves to the illustrate its significance within Nazi ideology.
Dr. Richard Freund, Bertram and Gladys Aaron Professor of Jewish Studies, has organized the exhibit. He has recently returned from a research trip with Christopher Newport students to the death camp in Poland and other Holocaust sites in Europe.
The Auschwitz exhibition will also present new information that is included in a documentary about Freund's research that is now in production. The exhibition will include video clips from the documentary and updated information on the uprising at Auschwitz by Jewish prisoners in 1944.
The new information also includes the so-called "Scrolls of Auschwitz" written by the Jewish resistance fighters who buried their accounts in various places around the camp and those scrolls have only recently been totally understood.
The exhibit opens October 27 at 8:30 p.m., following The Significance of Auschwitz lecture at the Trible Library Theatre.
The public is invited to tour the exhibit by appointment only from 10 a.m. - 6 p.m., October 28-November 19. Email jewishstudies@cnu.edu for more information or to set up an appointment.
The exhibit is sponsored by the Christopher Newport University Bertram & Gladys Aaron Professorship in Jewish Studies, United Jewish Community of the Virginia Peninsula, and the Virginia Holocaust Museum.
The exhibit is one of the signature events in Christopher Newport's two-week long Reflections on the Holocaust. Another highlight is the world premiere of an opera, Trial of God, based on the play by the late Elie Wiesel.
---