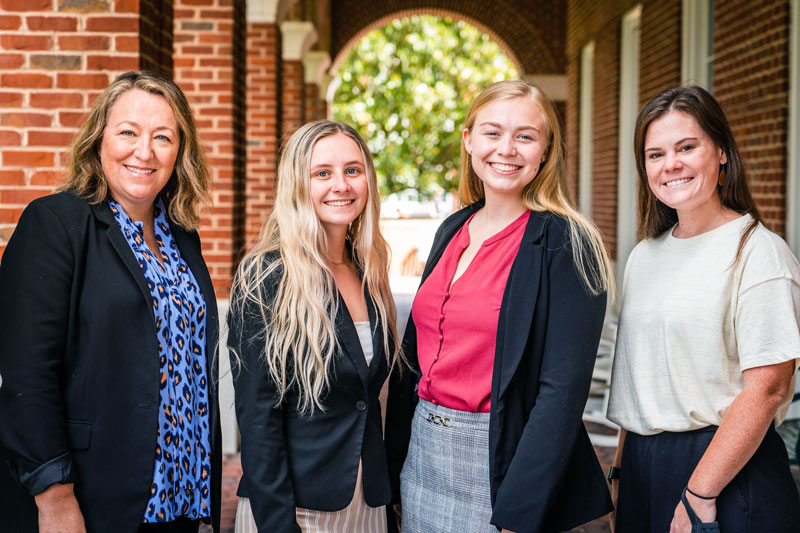 Read time:
---
The Center for Community Engagement has been awarded a $15,000 grant from the Corella and Bertram F. Bonner Foundation for its community-engaged learning (CEL) initiative. The Bonner Foundation is a national organization that works with colleges and universities to benefit communities through a wide array of service initiatives.
The grant will fund a deeper integration of CEL into courses at Christopher Newport and the creation of a resource library for faculty.
Vanessa Buehlman, CCE director, and English professor Dr. Brooke Covington, the academic director, are leading the way on implementing the grant's provisions, with the assistance of two students, Adalynn Eller '23, a music and theater double major and Tracy Johnson '24, who is double majoring in criminology and communication.
Eller and Johnson will review the entire undergraduate course catalog searching for classes with community engagement and service-learning components. Once the review is complete, identified courses will be tied to one of the center's 10 service tracks, and become a part of the minor in civic engagement and social justice. Ultimately, the new bank of courses will show students how they can tailor their studies toward issues they're passionate about while making connections to the community around them.
"This is such a unique opportunity that Christopher Newport University has for its students," Eller said. "Getting to engage in community service within a class setting helps students to see the connection between their studies and real life."
Buehlman emphasized the importance of this first step in order to begin the second: "The findings of the course inventory will connect the center with CEL faculty to learn about their experiences and best practices, allow us to recognize faculty already doing this valuable work, and best inform where and how the center can provide relevant support and resources."
The second component of the grant is a yearlong faculty fellowship program that will guide faculty on how to incorporate CEL into their courses. In spring 2023, the center will hold a campus symposium on CEL and how other faculty members can incorporate it.
"Christopher Newport faculty are committed to exploring community-engaged projects in their classrooms, and students are eager to engage in this kind of learning," said Covington. "Thanks to this grant, we can offer training and resources on the principles that should guide community-engaged learning."
"This project brings campus and community together as a living lab to develop our students to be educated, experienced and engaged citizens, all while addressing critical needs for the advancement and health of our neighbors in Newport News and beyond," concluded Buehlman.
---