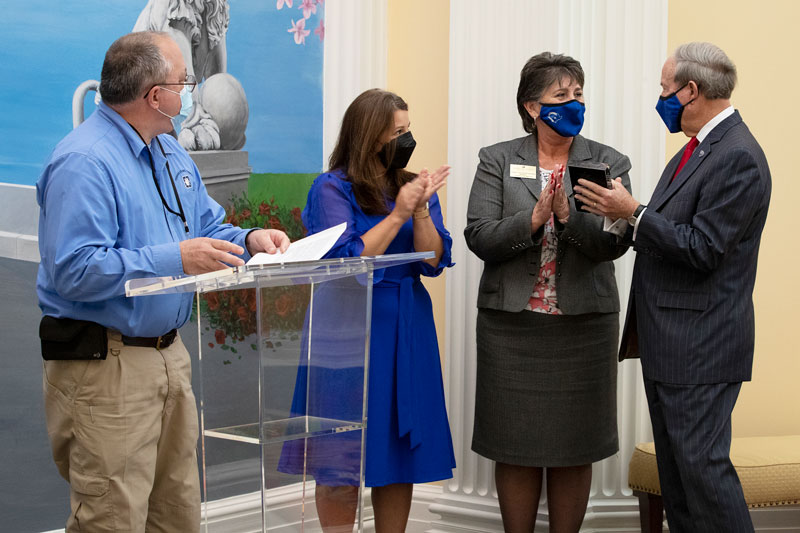 Read time:
---
Represented by two Captains for Life, the Peninsulas Emergency Medical Services Council (PEMS) presented an award to Director of Emergency Management Tammy Sommer, Executive Director of University Events and Special Projects Amie Dale and President Paul Trible for hosting a series of COVID-19 vaccination clinics.
At a ceremony in the Cynthia Perry Rotunda in Christopher Newport Hall, Steve Pincus '89 and Kevin Brophy '95 presented the university with the 2021 PEMS Special Recognition Award.
"As the COVID-19 pandemic spread across the Peninsula, and cases, including fatalities, grew rapidly within the region, Christopher Newport University became an engaged partner with local government emergency managers, hospitals, health departments and emergency medical services agencies in developing and implementing an integrated response." Pincus said. "When a vaccine became available, Christopher Newport University stepped forward and offered its Freeman Center facility, staff from multiple departments, and countless wrap-around services to open and operate a community vaccination center. Unquestionably, what you did saved lives."
In accepting the award, Trible emphasized that the clinic was a sterling example of multiple public service agencies in the region working together for a common cause. He noted that the clinic operated smoothly with few lines or delays so that thousands of local school teachers, firefighters, police officers and other frontline workers as well as Christopher Newport faculty and staff could be vaccinated.
The clinic was organized by the Virginia Department of Health, Peninsula Health District, city of Newport News, Newport News Public Schools, Newport News Fire and EMS, York County, York County Schools, York County Fire and Life Safety and Riverside Health System.
Dale and Sommer directed the conversion of the Freeman Center fieldhouse into a massive clinic and then guided its day-to-day operation. They stood alongside Trible during the award presentation and thanked the other university staff members who contributed to the effort.
"This extraordinary and invaluable community partnership enabled over 25,000 citizens and visitors including many of the region's most vulnerable to receive COVID-19 vaccinations," Pincus said. "In addition, the university's commitment to help ensure the health and well-being of its local and regional community and help maintain them as a safe place to live, work and enjoy our families, is the height of significance."
The mention of "significance" is a reference to Christopher Newport's credo that its graduates will be prepared to serve lives of significance. Trible said that Pincus and Brophy, in their contributions to the health and wellbeing of the region, were doing exactly that.
Pincus is EMS planner and emergency management coordinator and Brophy serves as the business manager with PEMS. The council integrates and coordinates resources to ensure a system of rapid response and expert patient care from 16 jurisdictions, 10 hospitals and more than 57 EMS agencies.
---