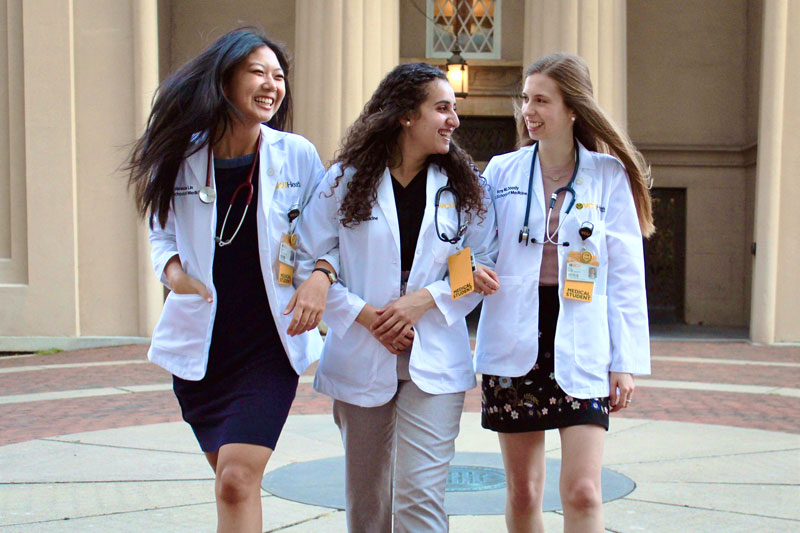 Read time:
---
In his annual state of the university speech, President Paul Trible heralded a new and impressive statistic: "This year we have 36 Christopher Newport alumni matriculating in medical schools around the country. It wasn't too long ago that we were sending only one or two graduates each year to medical school."
Vanessa Lin '21, Amy Doody '21 and Mariam Hammad '21 are all in their first year at Virginia Commonwealth University (VCU) Medical School. Lin says she was motivated to pursue a career in medicine by her service as a volunteer at Christopher Newport.
She also credits her faculty – "They really encouraged my curiosity and fueled our excitement for learning" – and she's grateful for the support she received outside the classroom: "I think one of the many things Christopher Newport did to help me prepare for medical school was connect me with great mentors and advisers.
"Compared to the difficulty of undergrad, medical school is an entirely different beast. You definitely need a strong support system to get through it. Learning to lean on your peers and ask for help when you need it was absolutely essential in helping me adjust to the workload here."
VCU is just one of many prestigious institutions on the list of destinations for Captains: Yale, Duke, University of Maryland, Johns Hopkins, Eastern Virginia Medical School (EVMS), Edward Via College of Osteopathic Medicine (VCOM), University of Illinois, Marshall University's Joan C Edwards School of Medicine, Rutgers, Lincoln Memorial University–DeBusk College of Osteopathic Medicine, West Virginia School of Medicine, Rowan University School of Osteopathic Medicine, Trinity College Dublin, European University Cyprus, Burrell College of Osteopathic Medicine at New Mexico State University and Noorda College of Osteopathic Medicine.
The medical school students come from a variety of academic backgrounds at Christopher Newport. Dr. Gwynne Brown, pre-med adviser, says that diversity of interests is a strength. "Among our recent graduates who are in medical school, there is no single path that they all followed," Brown said. "Many have been athletes, members of the marching band, or in sororities or fraternities. A few have been in an a cappella group or even developed their own club.
"What they all have in common is a passion for medicine and for helping those around them. These are the types of students we have and why I love working here."
Brown points out an array of advantages that help Christopher Newport students prepare for medical careers:
The Pre-med Scholars Program, and its Riverside Medical Group Scholars component, where students gain both a greater knowledge of their intended field as well as guidance on how to get there
Shadowing opportunities with local health care providers, select internships and the potential to get involved in local rescue squads or volunteer at Riverside Health System adjacent to the campus
Rigorous courses that prepare students for the Medical College Admission Test
Service opportunities in the health care field through the Center for Community Engagement
Research opportunities alongside faculty through the Office of Undergraduate Research and Creative Activity
Agreements with EVMS, VCOM and VCU that smooth the application process
Brittany Smith '18 is attending Campbell University School of Osteopathic Medicine with a goal of graduating in 2024. At Christopher Newport she majored in biology with minors in psychology and chemistry. At Campbell, she is in a number of research, volunteer, mentorship and leadership roles. Those include her service as a peer navigator, a program that pairs savvy second-year students with those that are just beginning their first year.
"My ability to manage such a large number of responsibilities at Campbell effectively was fostered during my time at Christopher Newport because the faculty and staff are always pushing students to be the best version of themselves," Smith said.
Smith says her goal is to serve a residency in Virginia and ultimately practice as an OB-GYN.
Doody, one of the VCU students, says she is training to be a bilingual pediatric specialist. She says the foundation for that consequential career was built at Christopher Newport: "I graduated as a double major in biology and neuroscience with minors in Spanish and leadership studies. I didn't even know it was possible to double major and double minor, but Dr. Brown took the time and sat with me my freshman year to help me to lay out a four year plan.
Not every pre-health student at Christopher Newport goes on to medical school. Brown says students are preparing for careers as dentists, physician's assistants and veterinarians. The university is also launching a program in kinesiology that will lead to careers in physical therapy and occupational therapy. Admissions agreements with EVMS for its physician assistant program and with nearby Old Dominion University for its physical therapy program give Christopher Newport students another boost.
Regardless of their academic path or career aspirations, Christopher Newport students have access to programs, advisers, counselors and caring faculty to help them along the way. For Doody, that included the President's Leadership Program and the Honors Program: "Those programs allowed me to explore some topics that further motivated me to pursue a career in medicine, including researching about the widespread health care disparities in our country, the impact on COVID-19 on various populations both nationally and internationally, and the ethical dilemmas within the framework of many international medical missions. Christopher Newport sparked within me a deep passion for combating these issues that I have no doubt will shape my medical career."
---