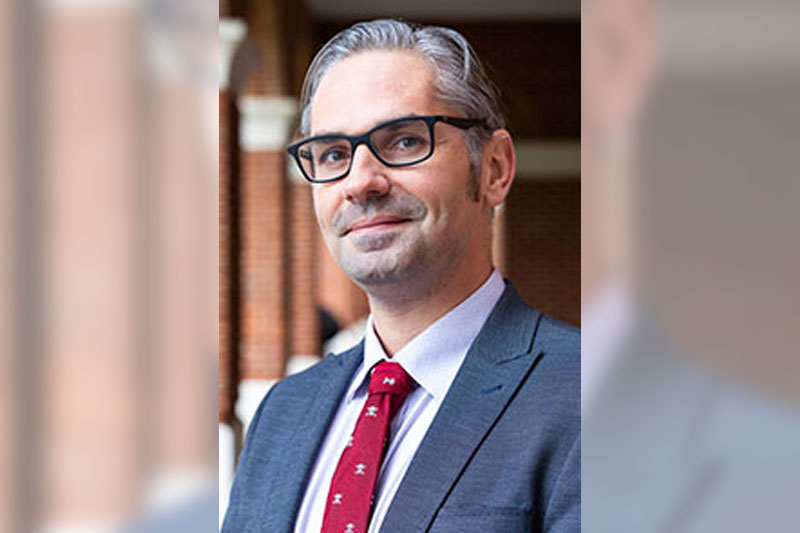 Read time:
---
Jason Ray Carney, PhD, is a lecturer in the Department of English. He adapted Elie Wiesel's The Trial of God into a libretto for the Christopher Newport production and offers the reflection below on the work.
---
The Trial of God was originally conceived as a purimshpiel, a play to be performed on the feast of Purim, a holy day that commemorates the end of fear and the beginning of joy. It is an allegory, set in a tavern in 1649 in a fictional Ukrainian town called Shamgorod, after a pogrom, and before another pogrom. Nevertheless, the allegory is based on an actual experience, an actual trial of God, one that Wiesel witnessed while imprisoned at the concentration camp at Auschwitz. Here is how Wiesel described that trial: "Inside the kingdom of night, I witnessed a strange trial. Three rabbis – all erudite and pious men – decided one winter to indict God for allowing his children to be massacred. I was there. I felt like crying. But there nobody cried."
For years Wiesel struggled with the vivid memory of this trial and how to communicate the sublime mystery of it to others. He finally struck on the idea of achieving contemplative distance by rendering it dramatically, as a tragic farce, one enacted by a group of minstrels and tavern folk, outside of the present, within the past, one dark night, after the triumph of death. Despite this engineered distance, there are dark realities beyond these many layers of art.
In its emphasis on the cyclical nature of violence, The Trial of God reminds us that hate endures and metastasizes in the shadows. According to a 2020 FBI report, hate crimes are at their highest levels in 12 years. The insularity of tribalism and fear of difference that fueled the Holocaust – that terrible fusion of automatization and systemic murder – is still part of us. Look in the mirror and squint: we are capable of the most profound cruelty. We are. But look again: we are also capable of the most profound compassion. To quote another Holocaust survivor, Viktor Frankl: "Man is that being who invented the gas chambers of Auschwitz; however, he is also that being who entered those chambers upright, with the Lord's Prayer or the Shema Yisrael on his lips." We can be saintly. We can be diabolical. We are human. Humans are free to choose.
But we are not just free to choose. Choosing is our responsibility. A dark insight provided by the horror of the Holocaust is that apathy is on the side of evil. Love is practiced and evil is cowardly indifference, a point Hannah Arendt reminds us: "The sad truth is that most evil is done by people who never make up their minds to be good or evil." Why this noninvolvement? We become habituated to the world. Detached. A horrible ordinariness seals our lips.
This is where art like Wiesel's play, Andrew Scott Bell's score, and the Department of Theater and Dance performance can help us. Yes, something like art can help us. But how? Echoing Arendt, Viktor Shklovsky articulates the problem to which art responds: "If the whole complex lives of many people go on unconsciously, then such lives are as if they had never been. The technique of art is to make things 'unfamiliar,' to make forms obscure, so as to increase the difficulty and the duration of perception." For Shklovsky, art makes the world strange, shocks us out of our indifference, enthralls us to its beauty, ugliness, opportunities and injustices with an almost gravitational pull. "Inside the kingdom of night I witnessed a strange trial," wrote Wiesel.
Thanks to Wiesel's art, we are all capable of experiencing that strange trial, bearing witness and perhaps freely rendering our own verdict.
---