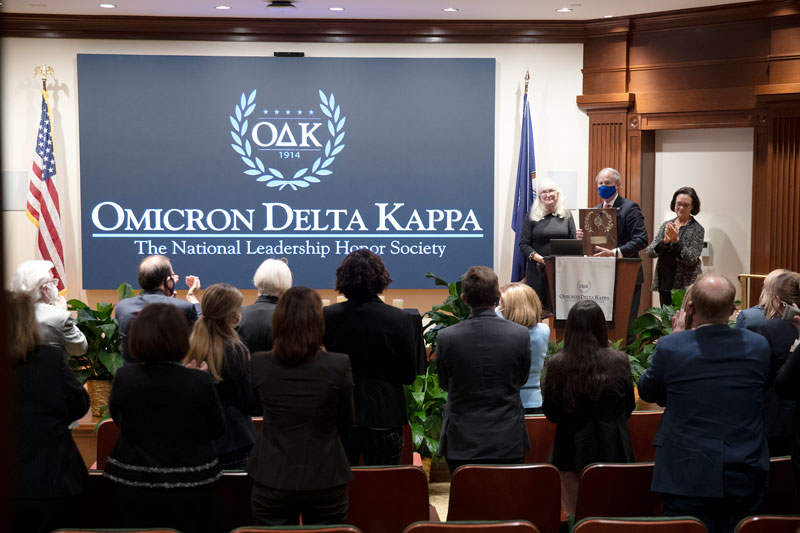 Read time:
---
The Omicron Delta Kappa Society and Educational Foundation Board of Trustees (ODK) awarded President Trible the 2021 Laurel Crowned Circle Award, the highest honor bestowed by the national leadership honor society.
ODK president Tara Singer and past board chair Sally Albrecht made the presentation in the theatre of the Mary M. Torggler Fine Arts Center. Singer said, "You, Paul S. Trible Jr., truly embody the tenets of exemplary character, responsible leadership, service and a deep-rooted commitment to democratic ideals. You represent the best of Omicron Delta Kappa, and we hold you up as an example of collaborative servant leadership."
Albrecht: "Paul S. Trible Jr., on behalf of the board of trustees of the Omicron Delta Kappa Society and Educational Foundation, I happily present you with the 2021 Laurel Crowned Circle Award, given in recognition of an outstanding American who exemplifies the society's ideals of collaboration, inclusivity, integrity, scholarship and service. Congratulations!"
After a standing ovation, Trible said, "This really has touched me and I thank you. It's an extraordinary moment – my heartfelt thanks for this honor."
First presented in 1980, the Laurel Crowned Circle Award is awarded annually to exceptional leaders in their respective fields or noted for their service in advancing leadership development. Previous recipients include former U.S. Attorney General Richard Thornburgh and Secretary for Health and Human Services Donna Shalala as well as acclaimed author James MacGregor Burns.
ODK also offered honorary membership to three Christopher Newport leaders:
Robert Hatten, a prominent Hampton Roads attorney and rector of the Board of Visitors
Cynthia Perry, now retired, worked for Christopher Newport for over 42 years in a number of roles, including as chief of staff, director of planning and budget and counselor to the president
Alan Witt '76, dean of the Joseph W. Luter, III School of Business and former CEO of PBMares, a top 100 accounting and business consulting firm
The ceremony for Hatten, Perry and Witt was led by Dr. Sheri Shuck-Hall, ODK faculty adviser and professor of history, and Dr. Sean Heuvel, ODK circle coordinator and assistant professor of leadership.
Shuck-Hall and Heuvel also initiated six students in a ceremony that included taking the oath of membership. That oath comes with solemn obligations. Said Shuck-Hall: "This means that you will ever seek to make it a real factor for good in academic and community life, not only at your own college or university, but with American educational institutions at large and in the communities in which you will lead. As a member, you commit that you will make every effort to practice its high ideals, both in private and public life, so that the world may see in you a concrete, living symbol of the great principles of Omicron Delta Kappa."
Omicron Delta Kappa Society is a national leadership honor society, founded on the campus of Washington and Lee University in Lexington, Virginia, on December 3, 1914. Learn more at odk.org.
---