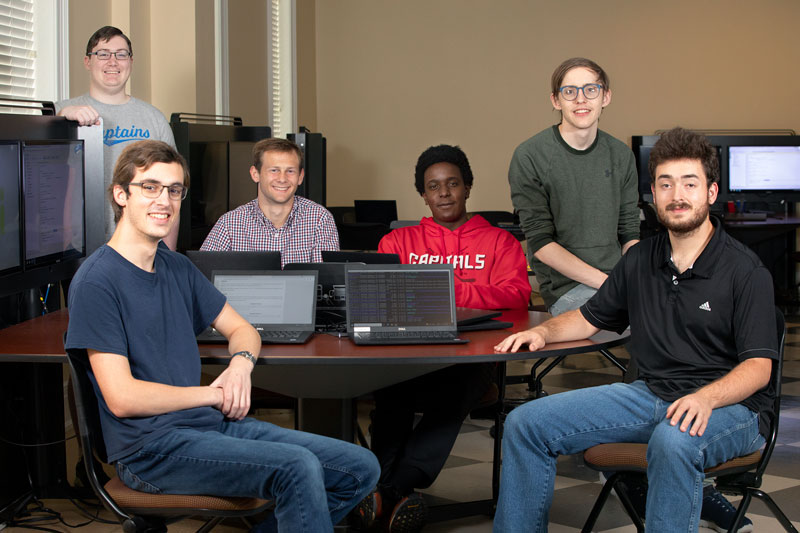 Read time:
---
Two teams of Christopher Newport students swept the top two places at a computer programming competition that featured 17 teams from at least eight other universities.
The competition was held at the annual conference of the Consortium for Computing Sciences in Colleges (CCSC) at Marymount University.
The teams were coached by Department of Physics, Science and Computer Engineering (PCSE) faculty members Dr. Mohammad Almalag and Dr. Scott McElfresh.
The victories were the first in the university's history, although teams of Captains have routinely attended the conference.
"In the past, the PCSE teams at Christopher Newport used to participate, but not compete," Almalag said. "With the guidance and training we give our students and the motivation our students displayed – we can win."
Each team was given 10 problems to solve and four hours to do the work. The two Christopher Newport teams were the only squads to answer as many as seven questions.
The first place team, nicknamed "The Mongooses," included students Jack Lynam, William Reames and Charles Steelberg. The second place team, "The Pushpins," included Aiden Tersine, Blaine Morse and Matthew Wakhweya.
CCSC is more than a programming challenge. Students also attend seminars and participate in a poster show. The organization promotes the exchange of information among college personnel and K-12 educators concerned with computer use and education in the academic environment.
---