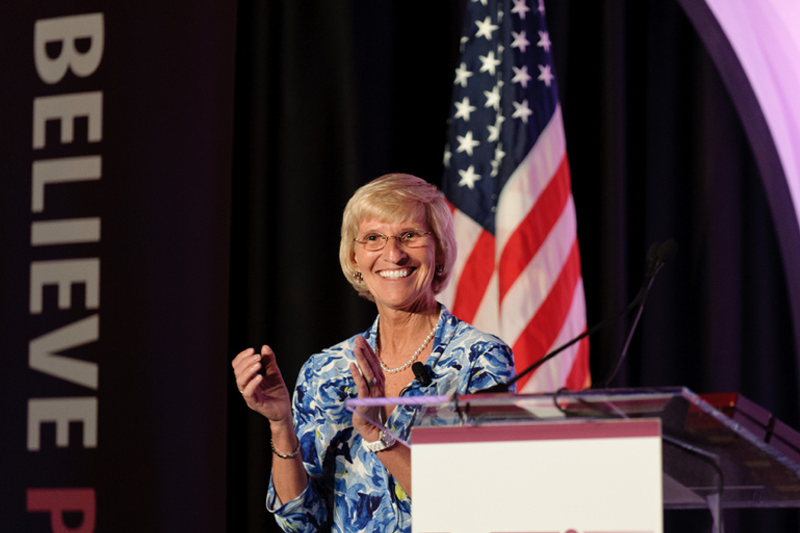 Read time:
---
Retired colonel Jill Chambers had many achievements in her 30-year groundbreaking career that includes serving with four chairmen of the Joint Chiefs of Staff. But what this Christopher Newport alum is most proud of is her role in helping to break the military's barrier of silence surrounding post-traumatic stress, which resulted in soldiers from all branches gaining "permission to speak" on mental health struggles.
When Chambers joined ROTC as a Christopher Newport freshman, she never imagined it would be the start of a career that would lead to being selected as "Woman of the Year" by the Department of Defense. Or being inducted into the U.S. Army Women's Hall of Fame. Or chosen as a "Next Maker," an award presented by PBS and AOL honoring trailblazing women whose physical, intellectual and emotional strength have opened doors, opened minds and inspired change. (Other notable women to receive the award are Madeleine Albright, Sandra Day O'Connor, Condoleezza Rice and Gloria Steinem). But Chambers also never expected post-traumatic stress would be the issue that would essentially repurposed her life.
However, September 11, 2001 changed everything.
She was working inside the Pentagon that fateful morning hijackers crashed a jetliner into the west side of the complex, punching a gaping wound into the structure viewed as a symbol of our country's military strength. With thick smoke and fiery embers floating in the mist, Chambers and her colleagues repeatedly re-entered the smoldering building, assisting with evacuations late into the night. "It was surreal. You could reach out and touch the smoke," Chambers recalled.
Early the next morning, Chambers was back at work. There was much to do, and little time to process the magnitude of the event or mourn the loss of friends and colleagues. "There were so many challenges occurring within the Pentagon and I was attending so many funerals of my long-time Army friends. At the time, I didn't even think about the idea that all this would take a toll on my own well-being."
Chambers stayed focused on the mission, quickly adapting to the "new normal" at the Pentagon. But as the years passed, she began to struggle. She found it hard to sleep at night more than two hours, and had recurring dreams about burning planes. Chambers' family had a long, proud history of military service – her father, grandfather and six uncles all served in the armed forces – so she knew what the expectations were in a warrior culture. She was also rising in rank, and acutely aware of the powerful stigma the military culture of the time attached to mental health struggles. So, Chambers kept her "invisible wounds" to herself.
Then in 2007, while serving under Admiral Michael Mullens, Chambers was asked to lead a study on the challenges faced by wounded warriors from all branches of the military. She toured bases across the country, and discovered there was an astounding number of active duty personnel, along with veterans and family members, who were silently and needlessly suffering from post-traumatic stress. Chambers innately understood their struggle and was in a position to help. She went to work, assembling a group of researchers that included world-renowned psychologist Martin Seligman and former U.S. Surgeon General Richard Carmona. The team laid the groundwork for the military's first holistic approach to wellness for service members. It resulted in the Comprehensive Soldier Fitness Program, designed to address the escalating cases of post-traumatic stress disorder from soldiers serving in the wars in Iraq and Afghanistan.
"I had the opportunity to learn from some amazing civilian experts in the field of resilience and how to apply that to PTS," Chambers said. "I was able to bring that knowledge to the senior leadership of the military. Happily, this resulted in all military branches getting a better understanding of PTS, removing the stigma and adopting programs that build resilience in our service members."
Chambers now lives near Las Vegas with her husband, country music singer Michael Peterson. She runs a business called This Able Vet that consults with organizations hiring veterans, and also runs a nonprofit offering many free services to vets suffering from PTSD. Her nonpharmaceutical approach uses holistic therapies and coaching strategies to help veterans experience what she refers to as "post-traumatic growth."
Long before Chambers was a U.S. Army colonel, she was a Captain and remembers her days as a public administration major at Christopher Newport fondly. She was amazed to see all the "spectacular changes" to the campus when she visited with her husband a few years ago. She believes being part of the ROTC program on campus solidified her decision to make the Army a 30-year career. She also has great memories of playing basketball. "I absolutely loved my college years at Christopher Newport. I believe participating in sports there really made a difference for me and created long-time friendships that still continue to this day, even 45 years later. How amazing is that?"
She offers this advice for all Christopher Newport students and recent graduates: "Following your passion is one of the greatest gifts you can give yourself. And if it takes a while to get to where you want to be, remember to enjoy and learn from the experiences you are gathering. It will make a huge positive difference and you will be so glad you learned so much from your journey."
---