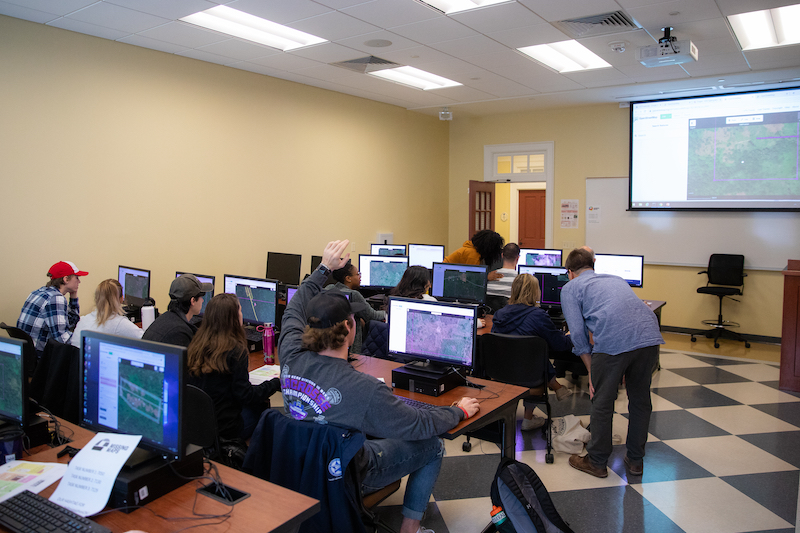 Read time:
---
For the first time, Christopher Newport students and faculty are participating in Geography Awareness Week. Established by presidential proclamation more than 25 years ago and sponsored by National Geographic, the week's events highlight the significance of place.
Too many young Americans are unable to make effective decisions, understand geo-spatial issues or even recognize their impacts as global citizens, according to National Geographic.
Held in mid-November, here are highlights of the Christopher Newport events:
Fall 2021 Mapathon – an in-person and virtual activity where people of all ages work together to map vulnerable communities. Saturday, November 13, 10 a.m.-noon and 1:30-3:30 p.m.
"The Geography of Climate Iniquity" – a talk by Dr. Jeremy Hoffman, a scientist at the Science Museum of Virginia and noted advocate of participatory environmental research. Hoffman will explore the history of urban planning decisions from nearly a century ago that have sustained and perpetuated systems that privilege and protect some at the expense of others during a period of climate change. Free and open to all. Thursday, November 18, 12:20 p.m. in McMurran 101
Student Story Maps will be on display in the rotunda of the Trible Library from November 15-19. The maps are a final project in the new GIS in the Social Sciences course and they integrate text, photos and other media to provide contexts.
The events are organized by Dr. Johnny Finn and Dr. Federica Bono, who lead the geography program in the Department of Sociology, Social Work and Anthropology. The university is preparing to launch a new minor in geography. Geography Awareness Week is intended to inspire students and prospective students to consider geography as a discipline and to learn more about its role in everyday life.
---