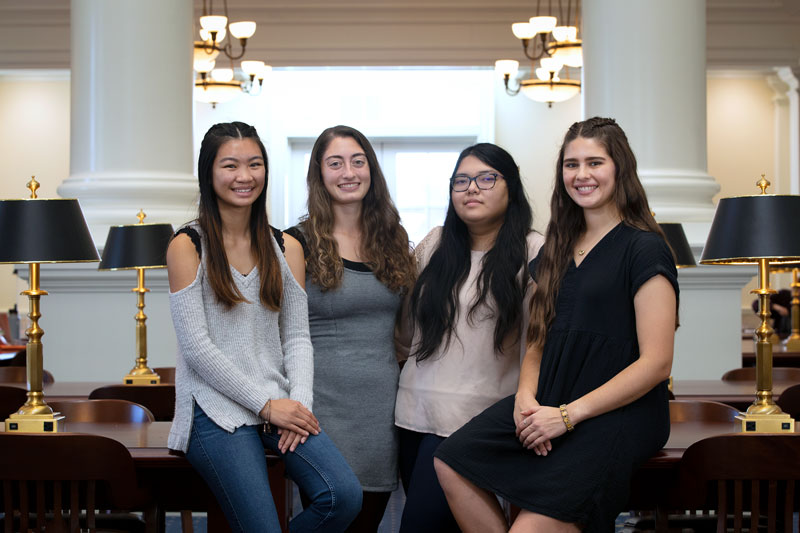 Read time:
---
A team of Christopher Newport students defeated competitors from U.S. and international universities to once again win the International Leadership Association (ILA) Case Competition.
The competition, held in conjunction with ILA's annual conference, showcases undergraduate and graduate students as they demonstrate knowledge about leadership. Each team identifies a contemporary socio-political-economic problem on the global or national level and proposes a leadership-based solution at the conference.
Teams from Christopher Newport have recently dominated the annual competition, winning the top trophy in 2018, 2020 and now 2021. A CNU team finished in second place in 2019.
"We have built up quite a reputation for stellar leadership students within the International Leadership Association," said Department of Leadership and American Studies chair Dr. Lynn Shollen.
Nicknamed the Blue Team, the Captains were led by Sydney King '22 and included Adrianna DeSantis '22, Phyu Chaw '23 and Bianca Londres '23. Their research project was titled "The HIV Epidemic Amongst Burmese Jade Miners."
The Blue Team defeated teams from Arizona State University and Washburn University in the U.S. and international squads including Delft University of Technology in the Netherlands.
"While the case study teams receive advice and guidance from the faculty when necessary, the fact is that our students are responsible for the vast majority of work on their projects themselves," said leadership professor Dr. Brent Cusher, the team's primary adviser. "The foundation in knowledge and research skills that they have received from the leadership studies curriculum has led to this sustained track record of success."
Cusher and Shollen thanked President Paul Trible for the financial support that allows the team to compete and credited their success to the guidance received from several faculty members and staff in the President's Leadership Program.
---