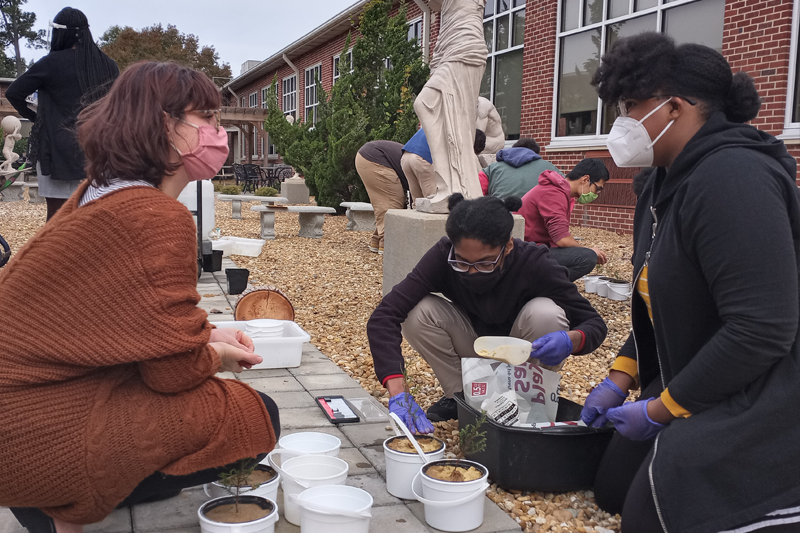 Read time:
---
They're just seedlings, barely longer than a toddler's foot, and yet they represent so much more. Each wobbly trunk raises hope that one of the mysteries of climate change can be unlocked, and each tender branch lifts spirits as Christopher Newport students and An Achievable Dream (AAD) middle and high school students demonstrate the power of a common cause – grow those seedlings into trees while monitoring their every move.
The research project unfolding simultaneously on the campus of Christopher Newport and on the AAD campus in Newport News is the brainchild of Department of Organismal and Environmental Biology professors Rob Atkinson and Janet Steven and Department of Communication professor Linda Manning who also serves as director of the Center for Sustainability in Education.
The students are growing Atlantic white cedar seedlings, trees that typically grow in peaty swamps that are increasingly threatened by climate change. Here, each seedling is housed in a small pail with a handle, so they can easily be observed and moved. The students are measuring the seedlings' responses to a variety of stresses, including salt water inundation, to learn how they will respond to a changing climate.
"By performing this authentic research publicly on our campuses we're providing agency and stirring hope that society can successfully address these monumental challenges," Atkinson said.
The first step in the project took place early this year when environmental science graduate student Mitchell Doyle trained graduate and undergraduate students in dendroecology – the study of the relationships between patterns in tree rings which pointed to salt as the key stress for 100-year-old trees growing near the ocean.
One of those students, senior environmental biology major Dahria Kalmbach, along with Doyle, started working with classes taught by Linescia Potts, Reese Shaw and Shannon Payne at AAD.
Earlier this month in the school's Hudgins Sculpture Garden, a team of Christopher Newport students led by Atkinson, Steven and Manning helped the AAD students to establish their seedling research. A similar public science project is also underway on the Christopher Newport campus. Ultimately, the research will provide natural resource managers with science to support restoration and management of public lands.
Atkinson says it's critical that the public sees the work, much as visitors to Madison Square Park in New York City are seeing a "ghost forest" installed by artist Maya Lin. The barren, brown trunks of 49 dead Atlantic white cedars in that park warn of the danger of climate change and the threat of rising sea water. Lin said she hoped her display would spur action to conserve coastal forests. It did. The display motivated Atkinson to ask the Virginia Department of Forestry to provide 49 seedlings for the public research effort.
While the Christopher Newport-AAD collaboration is more about science than art, Atkinson says, "It's the art that can build public support, and the combination is critical for addressing climate change."
---