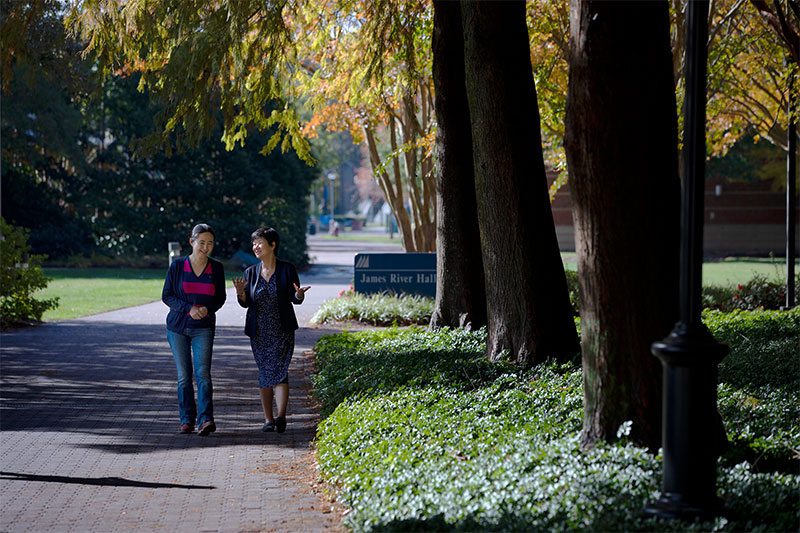 Read time:
---
It's easy to assume the friendships we make in college will last a lifetime. College friends often become our surrogate family – the people we live, work and navigate life with. But in the years and decades following graduation, even the closest bonds can be challenged by new responsibilities, busy careers and geography.
It's a situation Christopher Newport's visiting professor from China knows all too well. Xin Ma and her friend Hong Ying '97 met on their first day at college in the fall of 1985, and became inseparable during their undergraduate years at Beijing Normal University. Ying was there during Ma's most important, life-changing moments. When she met her future husband. As a bridesmaid at her wedding. And, Ma adds, "at the most important and sweetest moment of all – the birth of my son, Chi."
Inevitably, life brought about change. Ma continued her work in Beijing, but her friend chose to attend graduate school at Christopher Newport, where she earned a master of arts in teaching. "I remember that day back in 1995," Ma recalled. "We drove her to the airport, and we both cried. I still have all the letters and postcards she sent me while she was a student here."
The two stayed connected via handwritten letters, which took two weeks to deliver. Eventually, they lost touch. But Ma never stopped thinking about her friend.
Flash forward several decades: In 2018, Ma was offered an opportunity to teach intermediate and advanced Chinese conversation, writing and business courses as a visiting professor at Christopher Newport – the very same college her long-lost friend had attended and loved. It was a wonderful coincidence. "I think it's really amazing because there are so many universities in the United States. It really is such a small world sometimes," said Ma.
Ma jumped at the opportunity, and for the past three years has immersed herself in teaching, along with advising the Asian Student Union, where she happily shares her love of Chinese cooking, culture and entertainment. "President Trible and the faculty and staff have been so welcoming," said Ma. "It's been one of the most amazing experiences I've had in my life. Here, the students receive so much attention from the faculty. This is different from China, where the classes are much larger. When students graduate there, no professor actually knows them."
Her students are grateful for the personalized attention she gives them. "Professor Ma is an amazing professor who went above and beyond to help me as a student," said William Saunders, '21, a political science major. "Because of the knowledge and passion she brought to class every day, I decided to pursue a career in Chinese translation post-graduation."
"It has been a delight to work with Professor Ma during the last four years," said Dr. Laura Deiulio, chair of the Department of Modern and Classical Languages and Literatures. "Her cultural knowledge and creativity have greatly enriched our Chinese program and she has brought great energy to creating co-curricular learning opportunities for our students."
Although Ma has immensely enjoyed her time teaching at Christopher Newport, she was disappointed she hadn't been able to locate her friend. But one day while searching Facebook, she connected with a mutual friend who was able to put her in touch with Ying. "I suddenly received a message from her, saying she was teaching right now but she will call me right after class. We've been talking on the phone ever since. She now teaches in the Pacific Northwest."
After 25 years of separation, the two friends reunited at Norfolk Airport. Ma brought Ying back to campus, and Ying marveled at the spectacular changes that have occurred since she'd graduated nearly three decades ago.
"I love being back on campus," Ying said, " The education I received here inspired my lifelong passion for teaching, and helped me establish a successful career teaching English in the United States."
"She was so emotional when she visited," Ma said. "I showed her Christopher Newport Hall, the new part of the library and the Ferguson Center. We also saw the amazing "Night Light" exhibit at the Torggler Fine Arts Center. I introduced her to all of my students, the chair of my department and my colleagues. She wanted to have dinner at Regattas, and she enjoyed just sitting there, watching all the students go in and out. She loves Christopher Newport so much, every bit and every corner. She didn't want to leave. She loved her time here, and so have I."
This is Ma's final year at Christopher Newport – she will return to China next summer and resume teaching in Beijing. Like her friend, Ma says she owes a debt of gratitude to the college. "My time here at Christopher Newport will always be a beautiful memory, and one that I can now share with my dear friend Hong."
---