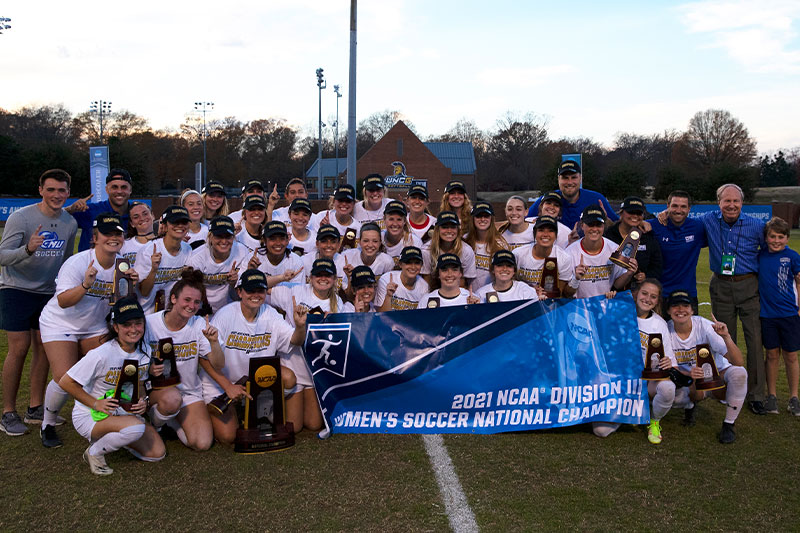 Read time:
---
Behind the banner that announced they were champions, the Christopher Newport University women's soccer team crowded together for one of the happiest photos in Captains history, each player and each coach holding a single index finger high to signify they are No. 1.
Number one is right.
Number one in Division III women's soccer. The first championship in the team's history after coming oh so close in 2018. The first championship in an NCAA team tournament in Christopher Newport's 60-year history. Number 1.
The Captains dominated the College of New Jersey, completing an undefeated season and a championship weekend without allowing a single goal. The final score was 2-0. Sarah Smith scored the game winner in the first half. Haley Eiser had seven saves in goal and another shutout. Jill McDonald was named the tournament MVP on defense and Riley Cook, with the golden goal winner in the semifinal and a goal and assist in the title tilt, was named the MVP on offense. Coach Jamie Gunderson won the national championship in his first year after serving eight years as an assistant.
Several hundred students, parents and supporters packed the stands in Greensboro, North Carolina. President Trible, with a grandson in tow, took it all in, enjoying a tournament team title that had proved elusive for so long and finally was realized in his final year as president.
Alumni and friends of the university watched the NCAA broadcast from a distance. There was a viewing party in Gaines Theatre on campus. At the Freeman Center in the midst of a basketball game, the Pep Band broke into the fight song in a salute to the champions. And there was an eruption on social media when it was over. Cynthia Allen-Whyte '97, a legendary former Captains athlete and coach, summed it up: "Congratulations!!!! So excited!!!!!"
More exclamation points from the post-contest news conference.
McDonald: "It's just amazing."
Gunderson: "I'm still in shock that this happened."
What made it possible? Smith: "We all love each other so much."
What happens next? Gunderson: "Hopefully now this opens the door that Christopher Newport programs have been knocking on and there will be more championships."
There can't be "more" until there's one. Now there is. The Captains are No. 1.
---