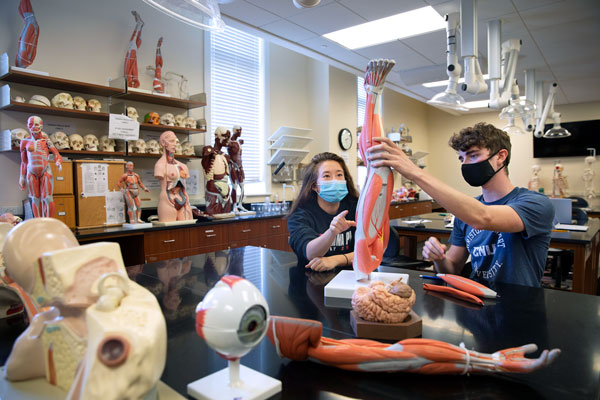 Read time:
---
Christopher Newport has added a new major due to growing student interest: kinesiology. The study of body movement, kinesiology will give students valuable insight into how human bodies work, which will help prepare them for when they are later working with patients.
Director of Pre-Health Programs Dr. Gwynne Brown says the major is not only a great fit for students interested in physical therapy and occupational therapy, but also those interested in sports medicine, athletic training and other related fields. According to the U.S. Bureau of Labor Statistics, physical therapy jobs will grow 21 percent and occupational therapy jobs are predicted to grow 17 percent between 2020 and 2030, making kinesiology a timely addition to Christopher Newport's areas of study.
"We already have a strong program and track record of preparing students for health-related programs. The kinesiology major adds additional opportunities to gain insight and practical experience, which will produce even more solid applicants for grad school and the job market," Brown said.
The major provides students with a strong foundation in the biological sciences as well as in applying that science to human systems, with courses and labs in anatomy and physiology, exercise physiology and biomechanics.
Rachel Chenoweth '23 said hearing rumors of the new major during her freshman year confirmed that Christopher Newport was where she needed to be.
"While I could have chosen from a variety of different majors and still get to where I want to be, kinesiology puts a strong emphasis on my love of exercise, fitness and rehabilitation, and confirms my choice to pursue it as my major."
Chenoweth has big plans for her degree, "After graduation, I plan to earn my doctorate in physical therapy and begin a career as a physical therapist."
Undergraduates will be able to conduct extensive research alongside faculty in expansive new lab space that is part of a new integrated science building. The planned building will be connected to Luter Hall.
"These new facilities will provide students with unparalleled opportunities for hands-on learning and training in the vital and growing field of kinesiology," said Dr. Jeffrey Carney, chair of the Department of Molecular Biology and Chemistry, which houses the new program.
---