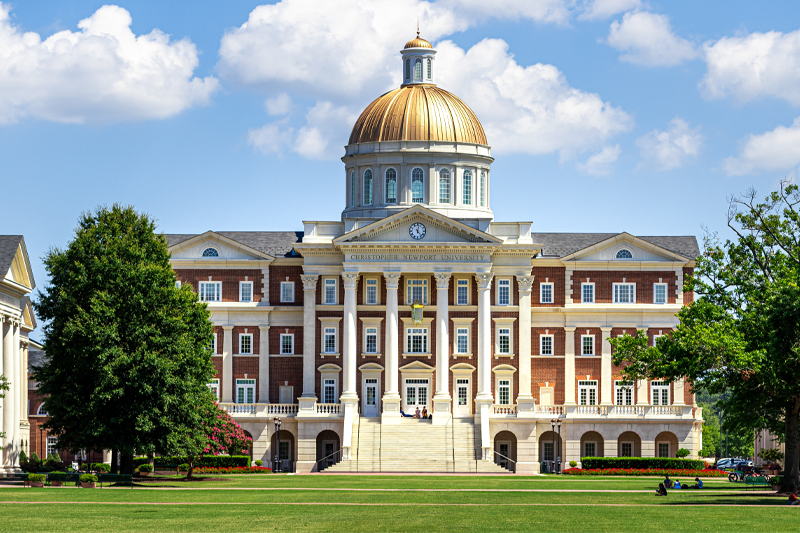 Read time:
---
Robert R. Hatten, Rector of Christopher Newport's Board of Visitors, announced the appointment of the search committee that will recommend a candidate to be Christopher Newport's sixth president.
President Paul Trible is retiring at the conclusion of the 2021-22 academic year. Adelia Thompson, currently Chief of Staff, will serve one year as Interim President, and then a new president will take office.
Hatten named the search committee at a meeting of the Board of Visitors (BOV); the BOV is the group that will make the final selection of the new president.
"This is an enormous job and it is unrealistic to think the search committee is going to find another Paul Trible," Hatten said. He added that the committee will be in no rush and that is a luxury many universities filling leadership positions do not have. "Our objective here is to pick the right person and for that person to have enough time for a smooth transition."
The search committee, chaired by Hatten, includes eight members of the Board of Visitors:
Lindsey Carney Smith '01, Managing Partner for the Newport News law firm of Patten, Wornom, Hatten, Diamonstein
William R. Ermatinger, Executive Vice President and Chief Human Resources Officer of Huntington Ingalls Industries
Maria Herbert '86, President of MCH Consulting Services
C. Bradford Hunter '04, Vice President of Commercial Lending at TowneBank
Steven Kast '87, President and CEO of the United Way of the Virginia Peninsula
Terri M. McKnight '86, Partner and Director of Audit at GRF
Christy Morton '01, Vice President, External Affairs for the Virginia Economic Development Partnership
Judy Wason, community leader and founding benefactor of the Wason Center for Civic Leadership at Christopher Newport
Joining the BOV members will be:
Rachel Holland, Ph.D., Associate Professor of Voice, President of the Faculty Senate, Director of Vocal Studies, Department of Music
Scott Millar '85, former rector of the Board of Visitors, member of the Christopher Newport Education Foundation Board of Trustees, and Senior Vice President and General Manager of Corporate Human Resources at Canon U.S.A.
Michael Martin, former Rector of the Board of Visitors, President of Riverside Retirement Services and President of the Christopher Newport Real Estate Foundation
Tatiana Rizova, Ph.D., Associate Professor, immediate past President of the Faculty Senate, Chair - Department of Political Science
Jamilia Shipman '01, Senior Director of Advancement for Foundation and Corporate Giving and Annual Giving Programs at Christopher Newport
Alan Witt '76, former Rector of the Board of Visitors and Dean of the Joseph W. Luter, III School of Business at Christopher Newport
Hatten said he will name a student to the committee. "This is going to be an enormously democratic process. All voices are going to be heard."
The first meeting of the search committee is tentatively scheduled for January 7, 2022. At that time, the panel will begin the process for hiring a professional search firm to help identify and vet potential candidates.
---