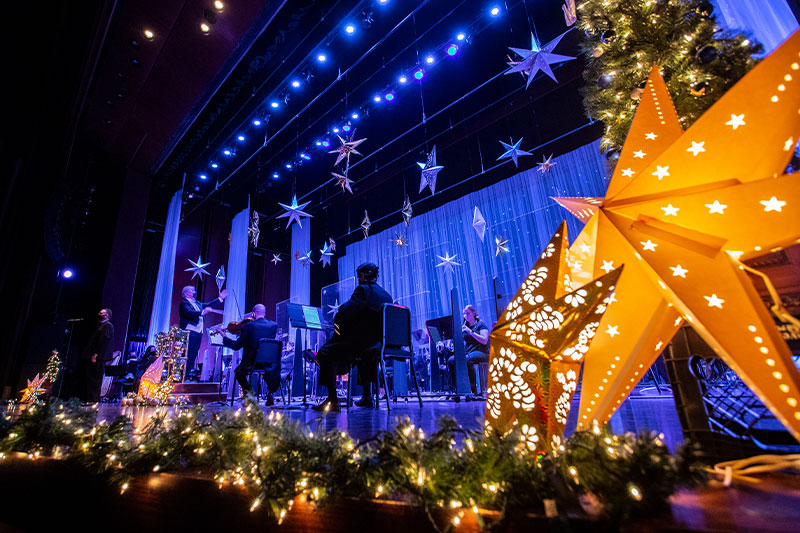 Read time:
---
Holiday Happening, Christopher Newport's traditional annual concert, will be in the TV spotlight again this year, thrilling home viewers just as it does the standing-room-only audiences at the Ferguson Center for the Arts.
WHRO, PBS in Hampton Roads and surrounding area, will broadcast the production at 6:30 p.m. on Sunday, December 19, just before the airing of another holiday favorite, A Charlie Brown Christmas.
If you miss Holiday Happening that night, you'll be able to see it in its entirety on the WHRO website and on Christopher Newport's YouTube channel.
There are some new twists for this year's production – including a special guest performance by the Warwick High School Women's Concert Choir. Students and staff from Newport News Public Schools are also assisting in the production.
The show features hundreds of Christopher Newport students performing with faculty members. The program includes:
Herald trumpets
The Marching Captains
Chamber Choir / University Chorale
Jazz Ensemble
University Orchestra
Gospel pianist Don Morse
Percussion Ensemble
Wind Ensemble
As he did in the inaugural broadcast last year, President Paul Trible will open the show. Theater professor emeritus George Hillow will be the master of ceremonies. Also appearing will be Dr. Mark Reimer, director of music, the George and Mary Torggler Professor of Music and distinguished professor of music.
"This year's Holiday Happening on TV demonstrates what we can accomplish as a community," Reimer said. "I would like to offer a very special thank you to the wonderful folks at WHRO public television, Newport News Public Schools and our sponsors."
The sponsors include State Farm/Patty Heath Agency, Weymouth Funeral Home and the financial advisers of the O'Connell/Fendrick/Tamburri Group.
Holiday Happening will again close with a sing-along-at-home performance of "Jingle All the Way." Then you can settle in to enjoy Charlie, Snoopy and their pals.
Visit cnu.edu/holidayhappening for more information and the full event program.
---