Read time:
---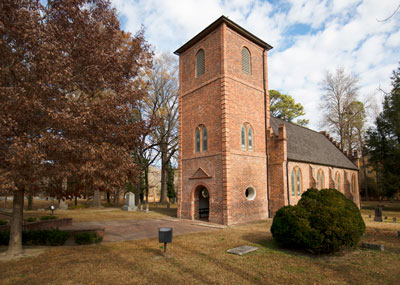 A few miles from Christopher Newport, just across the James River near Smithfield, stands Virginia's oldest church. A late-17th century building, St. Luke's Historic Church & Museum is now a national landmark dedicated to promoting the nation's founding principle of religious freedom. Leading its educational mission: Christopher Newport alum, Rachel Popp '16.
"Becoming a teacher isn't the only way to use a history degree."
This was a life-changing insight Popp had as an undergraduate – realizing that there are a multitude of career paths history majors can pursue. And thanks to the guidance of her adviser, history professor Dr. Sheri Shuck-Hall, she was able to make a real-world connection to her future career by doing both a service-learning project and internship at St. Luke's during her senior year.
The executive director, Todd Ballance, was so impressed with Popp's work that he hired her full-time. Just days after graduation, she went to work as a museum interpreter, and later as the education coordinator. "Dr. Shuck-Hall introduced me to the museum world. She gave me the knowledge and connections I needed," said Popp. "I'm now responsible for the care of our historic building and archives, along with planning and hosting of all lectures, workshops, school field trips, group tours, blogs, newsletters and outreach programs."
Shuck-Hall believes Popp's success story exemplifies the best of service-learning and shows the type of possibilities that exist when a student's passion and a real-world opportunity intersect. "I cannot say enough how much I admire Rachel," she said. "She has made a real difference in her community by showcasing St. Luke's history through educational programming. I always remind my students how critical it is to go beyond the academy and share our historical research and educate the public about history's complexity and value."
When a podcast was proposed as a way to expand the museum's story to a larger audience, Popp knew the perfect subject matter expert to get the project underway: Shuck-Hall.
"I'm delighted to partner with St. Luke's on this important project," Shuck-Hall said. "It harmonizes perfectly with the central mission of the Public History Center at Christopher Newport: to foster a broader understanding of the importance of history and to forge closer relationships between the university and the world-class public history agencies located throughout Virginia and beyond."
It's a full-circle moment for the former student and teacher: working together, professionally, on a public history project outside the walls of the university. The resulting podcast episode, included in a series called "History From the Old Brick Church," explores the differences between factual history and community memory as it relates to understanding the lessons of the past – something Shuck-Hall believes is critically important right now: "Recent events demonstrate to us more than ever that an understanding of the lessons of the past can inform the present and facilitate social progress in the future."
The "History From the Old Brick Church" podcast is made possible by a grant from the Virginia Humanities, and will begin airing in January on all major podcast platforms.
---