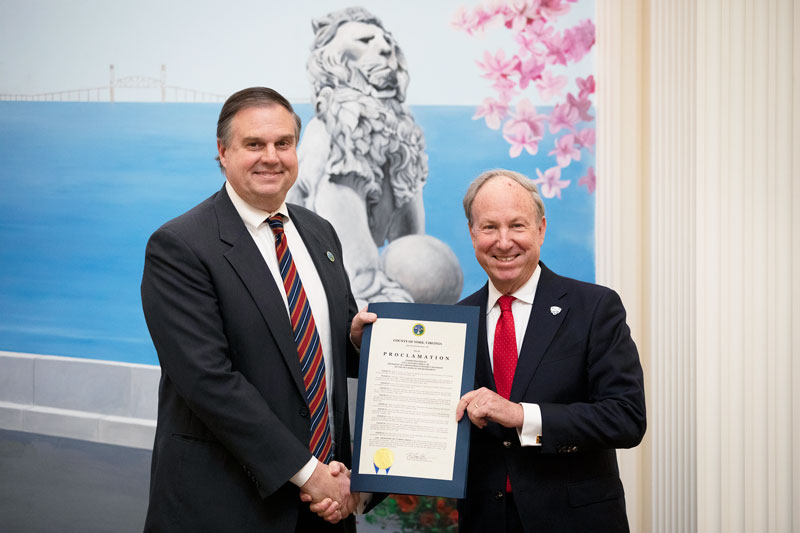 Read time:
---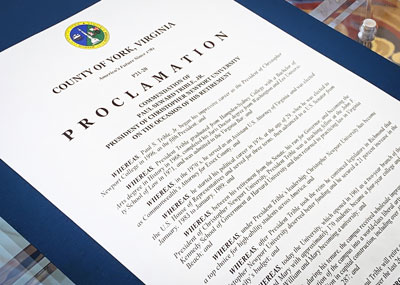 The York County Board of Supervisors honored President Paul Trible for a career of public service that has spanned five decades and created positive change that extends well beyond the gates of Christopher Newport.
At a ceremony in Christopher Newport Hall, Chairman Chad Green presented a proclamation from the York County Board of Supervisors outlining Trible's vast contributions to the Peninsula. It recognized his early days as a young federal prosecutor, his three terms of service in the U.S. House of Representatives, his U.S. Senate term and his current role leading a nationally recognized, academically selective public university.
Green thanked President Trible for his tireless work for the community at large, crediting his steady vision and passion for service with "improving the lives of every citizen in the county and beyond."
"President Trible is a visionary leader who spent the last quarter of a century transforming Christopher Newport into a university that is a top-choice for high-ability students from across the country," Green said.
The Board credited Trible's relationship-building skills in accomplishing projects like the Ferguson Center for the Arts, which benefits not only the university but also the greater community. Trible was able to bring key partners together, Green noted, and turn "what was an 'audacious dream' into a world-class performing arts center that not only showcases top talent but is also a tax revenue generator."
Trible was also praised for his political savvy, a skill that helped secure the funding necessary to physically transform Christopher Newport's campus. "President Trible, you took the reins and convinced the legislators in Richmond – which is no easy task – that Christopher Newport deserved better funding," Green noted. "During your tenure the campus has transformed into a world-class liberal arts and sciences university."
"It's been a marvelous journey," Trible reflected at the ceremony. "I just want to say thanks to my colleagues for all that they've accomplished. I also want to express my appreciation to you, Mr. Chairman, for your leadership, and thank your colleagues on the York County Board of Supervisors for this wonderful affirmation of all we've accomplished together. It has been my profound joy to serve the citizens of York County and the citizens of this Peninsula for nearly 50 years. Rosemary and I are very grateful for this recognition."
---