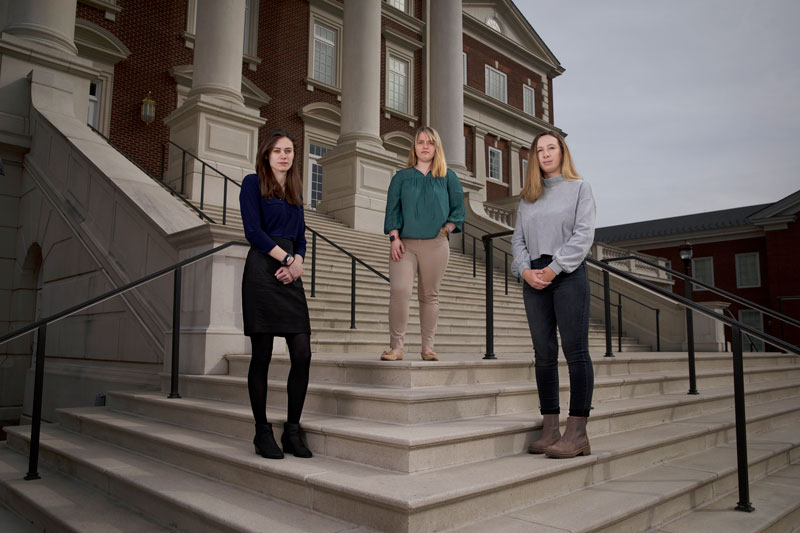 Read time:
---
Working with survivors of community and domestic violence is difficult but impactful work. Three students are answering the call, immersing themselves in challenging, year-long field placements that put them where they're needed most. The placements are a key part of Christopher Newport's nationally accredited social work program and required of all social work majors. The students shared their experiences helping victims in three very different settings.
Victoria Sampson '22
Newport News Commonwealth's Attorney's Office – Victim Services Unit
Responsibilities: victim's advocate / domestic violence
Priority: Helping victims reclaim their power
"My role is to listen to our clients and give them a voice in the court system. It can be intimidating to walk into a courtroom and face the abuser. We support our clients and help them navigate the complex court system. I love fighting for those who are unheard – people who are silenced by the power their abuser holds over them.
"It can be difficult at times – I have struggled with feelings of not being good enough, but I push through because I want to be there for people when they are at their lowest, and help them see they have what it takes to fight for the life they deserve.
Our social work professors, Dr. Jill Russett, Dr. Stephanie Valutis and Dr. Diane Griffiths, guide and support us through our internships, teaching us skills, theories and methods for helping our clients. They are so supportive of our growth and always have our best interests in mind."
Allison Schurr '22
Newport News Police Department – domestic violence prevention unit
Responsibilities: assess needs of survivors, develop victim-centered educational tools for police
Priority: Showing victims they're not alone
"Although domestic violence rates are extremely high all over the country, many survivors feel alone in their battle and find it difficult to leave an abusive relationship. We reach out to them and provide connections to resources that can help. My field placement has been an extremely eye-opening and life-changing experience.
"While I felt prepared based on the skills I've learned in the classroom, nothing can quite prepare you for the situations you will face in the field when you're working with a police department. The experience has shown me just how critically important violence prevention is. We need to support a person who is going through what is potentially the most difficult time of their life and give them hope. Thankfully, I have the skills I need, thanks to the support of my amazing professors, who genuinely care about us and want us to succeed."
Emma Snyder '22
Riverside Hospital – Hand in Hand
Responsibilities: assisting patients who have experienced community violence
Priority: Helping victims navigate the system and feel empowered in recovery
"I never thought I would see a 14-year-old gunshot wound victim, or a 23-year-old assault victim. It's heartbreaking to see someone my sisters' age and my age fall victim to that sort of trauma. And there are so many hoops these victims have to go through in their road to recovery: dealing with insurance, physical healing, being out of work, and mental and emotional trauma. It's really so critical that we reach out to these victims.
"At Hand in Hand, we support victims through advocacy, connect them with support services and sometimes just conduct a friendly check-in. This kind of outreach goes a long way in helping victims of violence take back control of their lives."
---
Field placements often help to inform what social work majors might do after graduation, so Griffiths advises students to pay close attention not only to what they're doing, but what they're feeling. Do they like working with a particular population? Do they prefer working in a government setting versus a nonprofit or for-profit setting? In addition to their own field placement, students benefit from the experiences of their classmates.
"We supplement their field placement with weekly intensive small seminars, so students get to hear from their peers about other experiences and they can compare in a productive way," said Griffiths. "Students are also given a variety of assignments which require them to think deeply about the work environment, how well it's meeting their needs and how well it aligns with their values."
Griffiths adds that it's important for students to learn how to deal with the emotional burden of their chosen career
"We place a high priority on managing and processing emotions. Students are encouraged to build self-care into their learning contracts as well as take seriously the need to have therapeutic support from a counselor. We check in with students weekly on how they're doing, share examples of useful coping strategies and teach self-care in a holistic way, meaning not something you do once in a while, but instead every second of every day of your life."
---