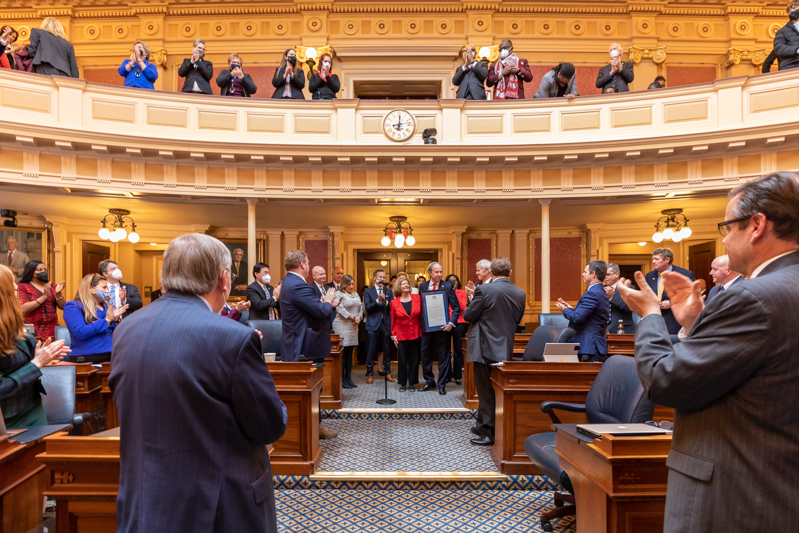 Read time:
---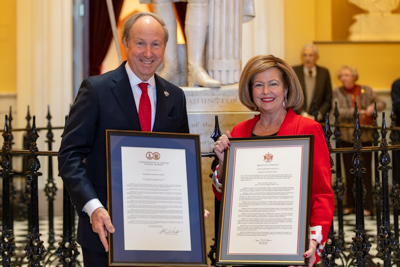 The Virginia General Assembly recognized President Paul Trible for his nearly 50 years of public service with a joint resolution presented at the Capitol in Richmond. Trible was commended for serving "the citizens of Virginia with integrity and excellence as an Assistant United States Attorney for the Eastern District of Virginia, Commonwealth's Attorney of Essex County, United States Congressman, United States Senator and President of Christopher Newport University."
The presentation of House Joint Resolution 179 was made center aisle during the Thursday, February 10 session. Standing with Trible in the House of Delegates was Christopher Newport alumnus Delegate Mike Mullin '04 and Delegate Emily Brewer. Senate Resolution 90 was patroned by all the members of the Virginia Senate and was presented by Senator Monty Mason, the Majority Leader Senator Dick Saslaw, the Republican Leader Senator Tommy Norment and Senator Mamie Locke.
"Today we honor the legacy and career of the president of my alma mater, Christopher Newport University," said Mullin. "Statistics can't tell a full story of achievement, but they give us an idea of the extent of his accomplishments. During his tenure, applications have increased 700 percent; the average GPA of entering students has soared to 3.8 and Christopher Newport has one of the highest four-year graduation rates among all public colleges and universities in the United States. President Trible and his wife Rosemary are truly extraordinary lights for all of us on the Virginia Peninsula. His is a life of meaning, of service and of significance."
Trible accepted these honors surrounded by family and many civic leaders and members of the Christopher Newport community. "I am deeply grateful to receive these honors from the House of Delegates and the Virginia Senate. I have been extraordinarily blessed with marvelous opportunities to lead and serve and hope that I have made a difference in the life of our Commonwealth and country. My 26 years at Christopher Newport have been the most important and rewarding years of my life, and with the help of a lot of wonderful people, we have together built another great university for America," said Trible.
---