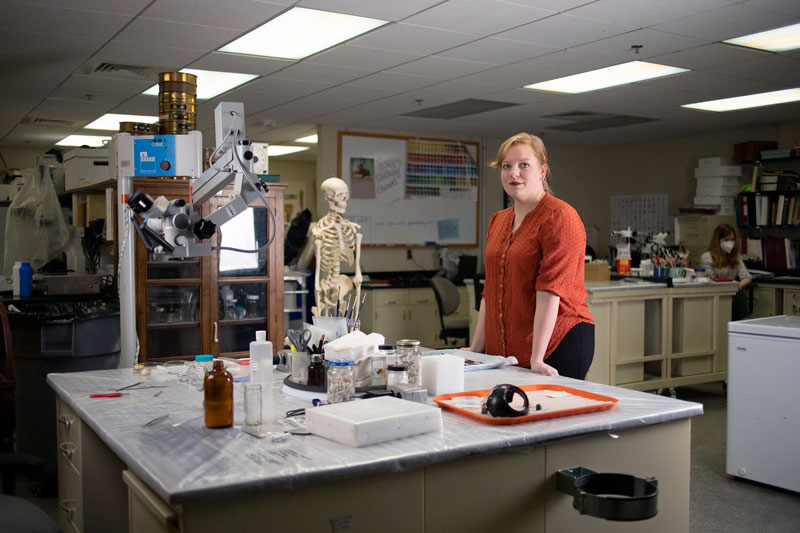 Read time:
---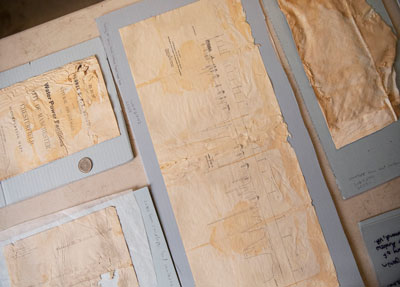 The eyes of the nation were fixed on alumna Chelsea Blake, as she deployed an array of tools to carefully open a 19th-century time capsule discovered during the removal of a Robert E. Lee statue in Richmond. With then-Governor Ralph Northam at her side, and TV cameras and livestreams rolling, Blake carefully opened the lead box and examined the contents.
No pressure, right?
Blake, a conservation project manager, and her colleagues at the Virginia Department of Historic Resources, were under a tight deadline to carefully open the box and show the contents to a live audience. "We are used to working alone in a quiet lab with a less compressed deadline, so having to make decisions in a busy lab and open the capsule on schedule for the governor's arrival is anything but another day at the office."
Blake, a history major who minored in art history and medieval and renaissance studies, says her career choice was influenced by Professor Emeritus Dr. Rosa Motta. "Her art history classes and first-hand experience with archeology inspired me to pursue a career in this field."
When Blake and other students expressed interest in gaining hands-on archeology experience, Motta connected them with Durham University in England, where they traveled on a study abroad experience to a dig at the Binchester Roman Fort. For Blake's senior project, she was able to work alongside Motta again with a focus on Roman coins.
"Learning how to conduct research while I was a student was important in preparing for the time capsule's opening," Blake said.
"I knew what resources the team needed to preserve the various materials. My time as president of the classics club provided valuable experience in leadership, which allowed me to organize the team and the events on the day of the time capsule opening."
So, what was in the box?
The objects inside included a few books, a Victorian-era coin and an envelope that contained a photo from a studio on Broad Street in Richmond. Out of the three books discovered, one really piqued Blake's interest. "The tool catalog Revised Price List and Illustrated Catalog - Department I. - G&A Bargamin - Manufacturers and wholesale Dealers in Materials and Tools for Machinists, Miners, Plumbers, Gas and Steam Fitters, and Saw Mills. 907 E. Main Street Richmond, VA 1888 is a part of history that is rarely preserved. These types of guides really help us identify tools from archeological contexts, as these tools may have changed form over time and no longer resemble our modern tools or exist at all."
---