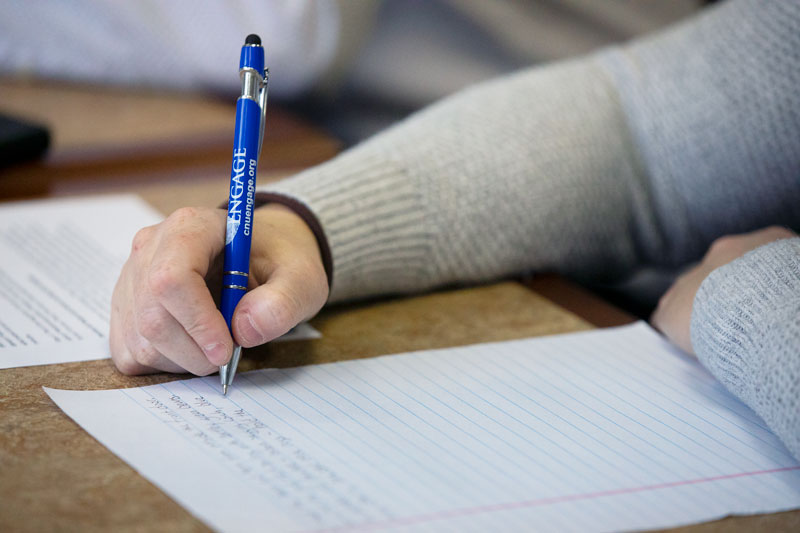 Read time:
---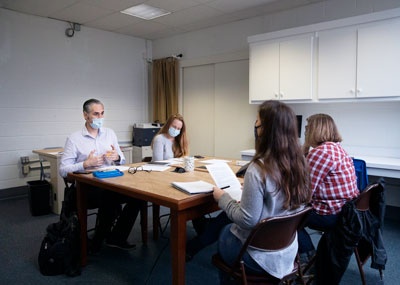 In an age of texting and 280-character tweets, long-form creative expression often gets pushed aside. Finding the time, space and guidance for projects can be challenging, but two English Department professors have created a place writers can find both inspiration and practical guidance.
Drs. Nicole Emmelhainz and Brooke Covington, with the assistance of Amanda Ballou '22 and Zenith Nguon '22, have established the Tidewater Community Writing Center. The center is free and open to writers of all abilities to bring personal, creative or professional projects for feedback. Whether it's a college essay, school-related assignment or even a novel-in-progress, writers can talk through their ideas with a volunteer consultant and use collaborative, conversation-based feedback to become a better writer.
The center is housed a few miles from campus in the former school building of St. Andrew's Episcopal Church. Writers can book a Sunday appointment to discuss their work with a trained writing consultant, either one-on-one or in a group setting. The center offers guidance in all stages of the writing process, from brainstorming and drafting, to revising and editing.
"We believe that by talking through ideas, writers can gain confidence and strengthen their writing," said Covington. "The Tidewater Community Writing Center provides the space where those conversations can materialize and – importantly – continue. For us, the community is the center and the writing forms bonds between us."
Ballou and Nguon are helping to market the center, coordinate volunteers and host events. It's part of their service project as Ferguson Fellows, a scholarship program that allows students to research a community issue or problem and design a solution to address it.
"I joined this project because I wanted to give back to the community. It's been a great opportunity to network with different businesses, create a social media presence and think of new ways to help members of our community who want assistance with their writing. My involvement with the center has helped me merge my passion for marketing with my love of writing," said Nguon.
"I've been able to develop my communication skills through my work reaching out to libraries and schools, raising awareness of the center," said Ballou. "Additionally I've been able to develop marketing materials, such as flyers and social media posts."
The idea for the center originated when Emmelhainz attended a training conference run by the International Writing Center Association. It inspired her to create a new assignment for the required training class: Tutoring in the Writing Center. This assignment asked students to research how a community writing center would benefit the citizens of Hampton Roads.
"The most recent census data shows that only about a quarter of the city's population has a bachelor's degree or higher, and about 15% live at or below the poverty line. These statistics suggested that this type of free writing service could make an impact," said Emmelhainz. "There aren't many jobs that don't require strong writing and communication skills, whether that means writing emails, reports or evaluations. Writing can be a barrier to access for so many. To support our vision of a just and equitable society, we aim to reduce those barriers by offering our services for free to any person, regardless of their prior experience or background."
Future plans for the center include offering writing workshops across a range of topics, as well a speaker series to promote local writers.
"We also hope to host multilingual conversation groups for those learning English, Spanish, French, Japanese, Mandarin and other languages," added Emmelhainz. "Plans are also underway for launching a community book club, free and open to the public."
---