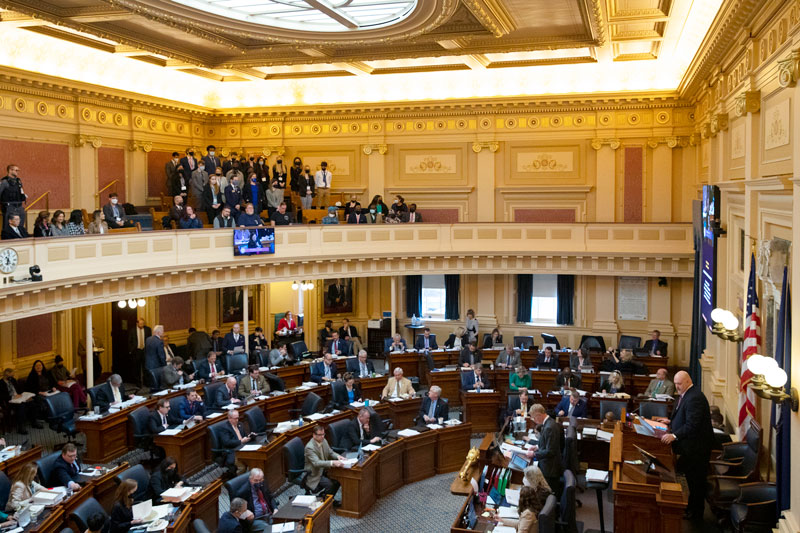 Read time:
---
Irene Thornton '24 strode confidently through the halls of the Pocahontas Building in Richmond, already well acquainted with the layout of General Assembly office buildings from a high school stint in the Model General Assembly program. The political science major was on her way to the offices of her hometown representatives to express her position on several bills being considered. None of the representatives was available, so Thornton dropped off letters she had prepared in advance.
"The day has allowed me to gather more insight on the intimate details of the legislative process as it relates to representatives negotiating and working across the aisle to make positive strides for the commonwealth."
Thornton was one of dozens of Captains, many of whom are members of the President's Leadership Program, who visited the offices of delegates and senators to inquire about issues that impact students and the university. The event is led by the Wason Center for Civic Leadership and allows students to deepen their understanding of complex policy issues facing Virginia, as well as witness how the government works by meeting with lawmakers and state officials.
"By experiencing Virginia's legislative process firsthand and by meeting the variety of people who make our government and communities work, we hope our students become inspired to be the next generation of civic leaders that we so desperately need." said Tom Kramer, executive director of the Wason Center.
Freshman Kassidy Reed '25 brought her concerns about school staffing to Senator Frank Ruff. "I spoke to Senator Ruff about the impact of COVID in my school district, and how many teachers I look up to had to choose their health and safety over their job. My district is now extremely understaffed as a result."
Delegate Emily Brewer, Del. Mike Mullin '04 and Senator Monty Mason met with the students and told them the key to thriving in politics and government is making connections.
"Make those connections while you're still in college. Do internships, shadow people who can teach you something. It will make a difference. And always be prepared, especially as a young person, because 90% of your success will come from being prepared, making connections and being genuine," said Brewer. "And don't forget to always look people in the eye."
Mullin told students that government often works differently at the state level. "Unlike Washington, most of what we do isn't partisan. The issues are more likely to be debated from a rural, suburban or urban viewpoint as opposed to a partisan viewpoint."
Later, in the House of Delegates chamber gallery, Secretary of Education Aimee Guiderra greeted the group and praised the students for their interest in government and willingness to advocate for issues important to them. When the session got under way, Delegate Shelly Simonds welcomed the group on the House floor.
Students also met with a panel of alums who work in various capacities in the General Assembly, which included Jennifer Walle '06, Camille Castleberry '20 and Nicole Bunce '14.
"I really enjoyed having lunch with these three alums, who are now working in the Capitol," said Thorton. "They shared their experiences and gave us advice for life post-graduation. Hearing from women in the field was definitely very inspiring!"
---