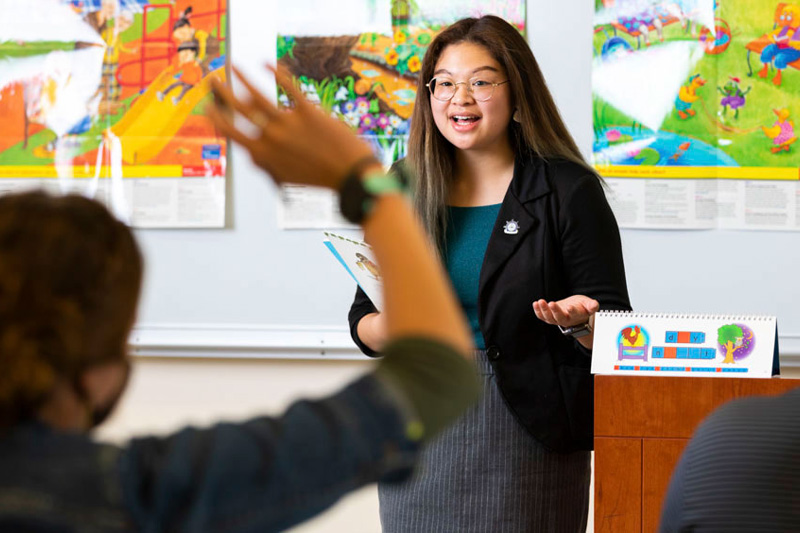 Read time:
---
Christopher Newport's elementary teacher preparation program has been named among the best in the nation for providing teachers with the essential content and skills they need to teach mathematics.
The National Council on Teacher Quality (NCTQ), a national research and policy organization that regularly evaluates the core requirements and practices of over 1,100 programs that prepare future elementary teachers, released a new report in which Christopher Newport's program earned an A for its content requirements in elementary mathematics.
NCTQ evaluates programs for their coverage of the key mathematics content that elementary teachers need, as well as how to teach those concepts (math pedagogy):
Numbers and operations
Algebraic thinking
Geometry and measurement
Data analysis and probability
NCTQ's rankings are based on guidance from an expert panel of teacher preparation program staff, mathematicians and math educators. Christopher Newport stands apart by meeting 90% or more of the instructional goals across each of the elementary mathematics topic areas.
"To be recognized as one of only five graduate-level programs in teacher preparation across the nation to earn a top score for meeting coursework requirements in the teaching of elementary mathematics is an amazing accomplishment," said Dr. Jean S. Filetti, professor of English and director of teacher preparation. "It is good to know that our graduates are well prepared academically to meet the challenges of the classroom, especially in such a critical area as mathematics."
"We know how much math matters in setting a foundation for students," said Dr. Heather Peske, NCTQ president. "The biggest in-school difference we can make for students' math learning is to make sure their elementary teachers understand key math content and know how to teach math effectively. Christopher Newport University should be proud to be among the top teacher preparation programs in the country working toward this goal."
---