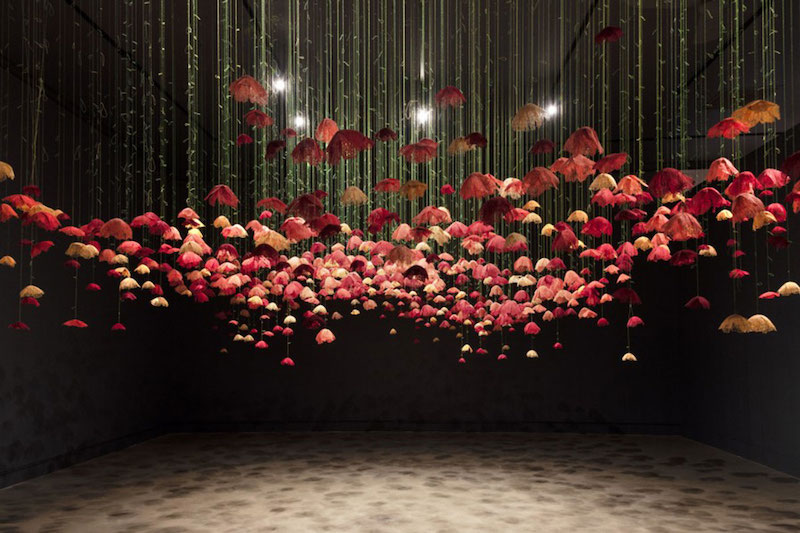 Read time:
---
Nature is the inspiration for the latest immersive exhibit at the Mary M. Torggler Fine Arts Center: "Flora | Fauna | Fiber: Textiles in Contemporary Art."
Come and admire the setting sun, while sitting on a hand-tufted carpet of grass and flowers!
Hover beneath a 13-foot crocheted octopus amid a menagerie of fish and baby octopuses!
Experience a swaying garden of striking red poppies suspended over your head!
"Flora | Fauna | Fiber" offers a glimpse into the surprising ways contemporary artists are incorporating fabric or fiber into their art using many of the techniques typically associated with the materials (knitting, embroidery, crochet, quilting and more). The exhibit features 13 artists from the United States, Europe, South America, Asia and Canada.
Virginia native Heather Beardsley imagines a world in which plants proliferate uncontrollably. Canadian Emily Jan presents meticulously crafted mixed-media creatures that are part flora, part fauna. And New York-based Sui Park uses plastic fibers to create abstract forms that resemble sea creatures or microscopic organisms. Kentucky artist Melissa Vandenberg presents snakes created from antique quilts, while Florida artist Amy Gross evokes the swarming of bees with textiles and beads.
"Several of the featured artists are internationally known for their exceptional work with fiber. The works in this exhibition, which range from exquisite to whimsical to elegiac, explore the intricacies of nature and prompt us to consider our relationship to it," said Holly Koons, executive director.
"Flora | Fauna | Fiber" is free and is open to the public Tuesday-Sunday through October 9. Visit thetorggler.org for complete details on the exhibit, as well as classes and other offerings at the Torggler.
---