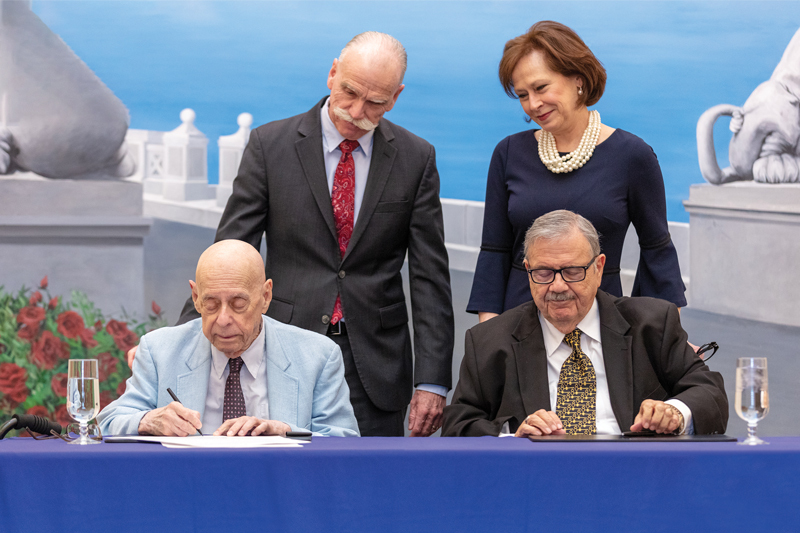 Read time:
---
Two longtime friends and academics ensured their life's work, researching and teaching about National Socialist Germany and the Holocaust, will continue at the highest level. Surrounded by family, friends and co-workers, Theodore Reiff and Anthony Santoro, signed documents that established the Reiff-Santoro professorship in History.
Reiff's million-dollar investment is the largest, single-donor endowed professorship at Christopher Newport, and will be used to carry on the important work Reiff and Santoro have conducted over many decades.
Reiff is an internationally known Holocaust researcher, esteemed physician and highly regarded medical educator. He earned a bachelor's degree in chemistry with honors from Michigan State University and went on to earn his doctor of medicine from New York University College of Medicine.
Reiff has served on the faculty at a number of medical schools, including the University of Southern California Medical School, the University of Nebraska School of Medicine, Johns Hopkins School of Medicine, the North Dakota School of Medicine, Tufts University School of Medicine and the Eastern Virginia School of Medicine. His expertise is in gerontology and geriatric medicine, a field of study focusing on the health and needs of the elderly. Throughout his impressive career and after his retirement, Reiff involved himself in advocacy activities for the disabled and handicapped. Beyond his interest in medicine, Reiff was a deputy sheriff in Grand Forks County, North Dakota, and a professor of religious studies at the University of North Dakota.
Now retired from medicine, Reiff is regarded globally for his extensive research on war crimes committed by Nazi physicians during the Hitler period. He is a sought-after lecturer on genocide studies, medical malpractice and the consequences of human rights violations. He is the founding president of the Genocide Education Project.
Reiff has served as a scholar-in-residence at Christopher Newport. His previous commitments to the university include founding the Reiff Center for Human Rights and Conflict Resolution, established in 2012. Reiff's visionary investments have allowed Christopher Newport to make transformative hires that engage and impact students.
"I had many friends and acquaintances who were survivors of the Holocaust," said Reiff. "When I went to medical school, I became aware of the harm done by certain doctors and highly trained medical people. Many of the German doctors were honorable people, but a lot of them were influenced by the false theories of the time, and participated in horrendous experiments on military prisoners, concentration camp prisoners as well as death camp prisoners. A doctor's job is to preserve life and alleviate suffering. This professorship is critically important because, to paraphrase, we must learn from the past so it is never repeated. The professorship will carry on the critically important work of educating generations of students to come about the atrocities that were committed, including those by Nazi physicians during Hitler's regime."
Endowed professorships have a lasting impact on the university and its students by providing unique educational and scholarly opportunities.
Reiff also founded the professorship to honor Santoro, his longtime friend and colleague. Santoro is distinguished professor of history and Christopher Newport president emeritus. He has devoted much of his teaching career and research to the study of National Socialist Germany and the Holocaust.
"Dr. Reiff and I were both born before World War II. We both had firsthand contact as children with relatives and friends who served in the war and who perished in the war. We know what the war was about and how the scourge of Nazi Germany had to be defeated," said Santoro. "I think we would both subscribe to an old adage that goes something like this: 'the man may fall, but the flag never does.'"
Santoro will continue to lead the History Department's program of study on the Holocaust and the Nuremberg trials. When he retires, a nationwide search will be conducted for an established, respected senior scholar for the full professorship with tenure. The new Reiff-Santoro Professor will work in collaboration with the Reiff Center, as well as another endowed chair: the Bertram and Gladys Aaron Professorship in Jewish Studies.
"We're two old men now, two very good friends, and we want our work to be carried on," Santoro added. "Graciously, Theodore has donated the money for this professorship. I have to add, I did not want my name on it, but my good friend insisted that my name be honored. We've done so much work together, and we know that the time will come when we won't be here anymore. This will make things permanent. Thus, after we are gone, our life's work will be carried on by the occupants of this very distinguished professorship."
---