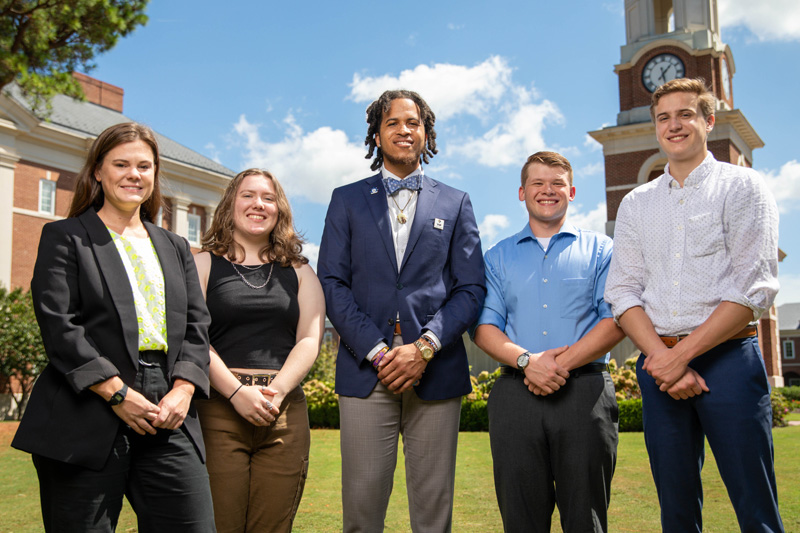 Read time:
---
An impactful collaboration between a professor, her students and an alum has resulted in funding for a center that will bring hope and treatment to survivors of gun violence.
English Professor Brooke Covington worked with students over the summer writing a grant proposal for the local nonprofit, Violence Intervention & Prevention. The community-based organization was founded by Cam Bertrand '14, sociology and criminology. The team's grant proposal was selected by the city of Newport News, which awarded the nonprofit $188,030 to launch a trauma recovery center.
The students who worked on the proposal with Covington and Bertrand include T. Green '24 social work, Aidan Rucker '24 cellular and molecular biology and Henry Harris '24 molecular & physiological biology. The project was particularly meaningful to Harris, who in addition to being a full-time student, serves as an advanced EMT in the city of Newport News.
"I have become acutely aware of the challenges our community faces and the need for a grassroots solution to the violence," said Harris. "The Ferguson Fellowship has allowed me to partner with Cameron Bertrand in expanding the scope and depth of trauma recovery."
Ferguson Fellows research a community concern, then collaborate with a community partner and faculty mentor to address the issue.
Rucker, also a Ferguson Fellow, says he is grateful for the chance to make an impact beyond the classroom walls. "This grant money will not only be used to fund the trauma center, but also to provide communities with skills and useful tools, such as emergency bystander training and response," he said..
"From my perspective as a teacher, this is the dream," said Covington, who serves as the academic director of the Center for Community Engagement and the director of the Ferguson Fellowship for Community Engagement. "This kind of real-world experience, built on collaboration, dedication and passion, is precisely what we hope to promote through the center and our community-engaged learning initiatives."
Since commitment to service and civic engagement stands at the core of the liberal arts and sciences education at Christopher Newport, Covington is always seeking out opportunities to partner with local nonprofit organizations. Her grant writing class requires students to think about their education more holistically by finding ways to create change-sustaining coalitions both on and off campus.
"When teachers incorporate community engagement into their classrooms, the potential for learning increases tenfold – at least. Students learn better by doing, and when the doing involves real stakes and stakeholders, the experience takes on a whole new meaning for students."
Covington and Bertrand are continuing their collaboration by co-authoring a chapter about podcasting as a tool for teaching anti-racism and social justice. The chapter will be published in the Campus Compact's edited collection on Anti-racist Community Engagement, forthcoming 2023.
---