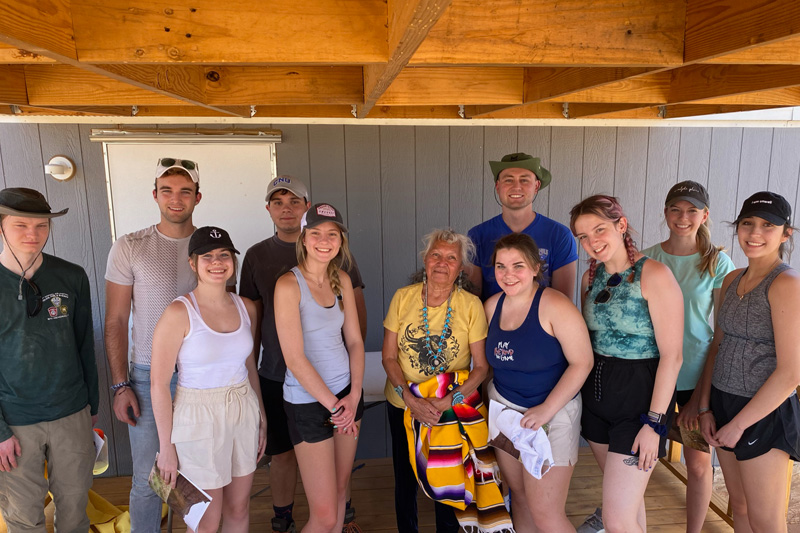 Read time:
---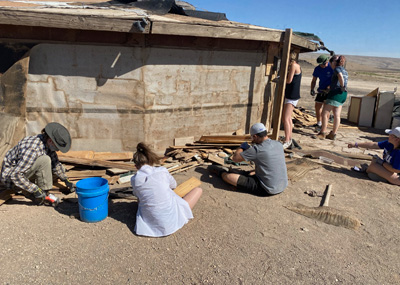 November is Native American Heritage Month, which celebrates the culture, traditions and languages of Native Americans, Alaska Natives, Native Hawaiian and Island communities to ensure their rich histories and contributions continue to thrive throughout the years.
A group of Christopher Newport students paid tribute to this heritage over the summer, when they traveled to Arizona to perform service with members of the Navajo Nation and Hopi Tribe. The group, mostly President's Leadership Program students, went to work in Rare Medals, Tolani Lake, and Cameron in the Navajo Nation, providing a variety of services from assisting in the construction of hoop house, to helping a Navajo elder acquire a new hogan—a dome-shaped traditional dwelling of the Navajo Indians of Arizona. The students also assisted with taking apart her old hogan, and recycling some of the boards to be used for her sheep corral and sheds.
Students also spent time in the Coconino National Forest working with the US Forest Service's Wood for Life initiative. This award winning program provides firewood free of charge to some of the most vulnerable residents in the Hopi and Navajo communities. The students spent hours hauling wood and stacking trucks for distribution. The wood provides heat to community members during the harsh winters, while also thinning out the forest to prevent future wildfires.
The trip was led by Will Reddy, Associate Director of the President's Leadership Program.
"Students gained first hand knowledge and perspective on some of the major issues facing our indigenous communities today. From underemployment and poverty; to housing and food insecurity; the students spent time serving with members of the Hopi and Navajo communities learning about these issues, and how they can make an impact through compassionate service."
That servant leadership, Reddy added, is at the heart of the President's Leadership Program.
"We want to get students out into the world to lead with their hearts and hands. We will continue to offer these immersive experiences to help ensure our next generation of leaders will seek to bring about needed and positive change in our world."
The students who participated were:
Eva Brennan '24
David DeLeon '25
Luke Dietrich '24
John Louis '24
Jacob Reimann '25
Sydney Revels '25
Anna Shapiro '24
Grace Taylor '23
Sarah Thomas '25
Sarah Wheatley '24
Working in partnership with this service trip was CHOICE Humanitarian Navajo Nation, Cameron Chapter House, Assist to Independence of Tuba City, AZ, and the US Forest Service.
---